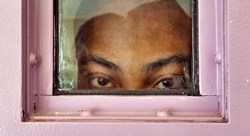 "Richard Ross has managed to take very expressive pictures of these very unexpressive places. It's obvious this … is a labor of love." — Ira Glass, host and producer, "This American Life," Juvenile in Justice exhibition catalog.
Wichita, Kan. (PRWEB) January 08, 2014
On any given day in the United States, some 70,000 young people are in juvenile detention or correctional facilities. For the past seven years, photographer Richard Ross has documented the placement and treatment of American juveniles that have been housed by law in facilities that treat, confine, punish, assist, and occasionally, harm them. A project to make the lives of forgotten youth visible comes together in Juvenile in Justice, an exhibition by Ross at the Ulrich Museum of Art at Wichita State University. The exhibition is on view Jan. 25–April 13, 2014, with a small selection of images also on view in the Rhatigan Student Center at WSU. An opening reception for Juvenile In Justice will be at 7 p.m., Jan. 25 at the Ulrich Museum.
The exhibition features nearly 60 large-scale images from facilities nationwide, including 18 from Sedgwick, Johnson, Wyandotte, and Douglas County juvenile detention facilities in Kansas. The faces of the minors are blurred, cropped out of frame, or hidden by hands or hair to protect confidentiality. Accompanying many images are excerpts from interviews Ross conducted during the project.
To date, the Juvenile In Justice project includes photographs and interviews with more than 1,000 juveniles at over 300 facilities in 31 states—from detention, correction and treatment facilities to group homes, police departments and juvenile courtrooms. Ross introduces the viewer to young people with little voice, from families with the least resources, in neighborhoods with the least power. "The hope is that by seeing these images, people will have a better understanding of the conditions that exist," Ross writes on his website. Ross will be in Wichita Feb. 6 to give an artist talk about the project at the Ulrich Museum.
Ulrich director Bob Workman believes that an exhibition featuring work at the juncture of art and social commentary belongs in a university setting. "Wichita State and the Ulrich are an ideal safe place to facilitate real community and family dialogue about difficult social topics," Workman said. "We've taken steps to encourage and invite such dialogue on this haunting examination of juveniles in the justice system, a topic that directly touches our community."
With a Recognition Grant from the Kansas Health Foundation, the Ulrich will have extended visitor hours for the duration of the exhibition, a resource center with an on-site social worker to provide counseling resources, and 100 percent bus reimbursement for group visits.
"With this exhibition and these resources our intent is that a parent, grandparent, or young person can seek help for a friend, loved one, or themselves. These photographs have the power to change peoples' lives," said Workman. "Art absolutely has the power to incite change."
To schedule a free group visit, contact Linda Doll at (316) 978-6417 or linda(dot)doll(at)wichita(dot)edu.
For more information about Juvenile In Justice, visit:
http://www.juvenile-in-justice.com/
For high-resolution images and cutlines, visit:
https://www.dropbox.com/sh/5k0qs6x30wm8oht/vTezjlK_71
SUPPORTING PROGRAMS FOR JUVENILE IN JUSTICE
All programs are free and open to the public unless noted otherwise
OPENING RECEPTION, Jan. 25, 7–9 p.m.
Free for WSU students and Ulrich members, $10 for general public
POLICYMAKER PANEL, Jan. 27, 6 p.m., WSU Campus Activities Center Theater
SB61: How Kansas Human Trafficking Legislation Has Changed the Face of Juveniles in Justice
ARTIST TALK: Richard Ross, Feb. 6, 6 p.m.
FILM SCREENING: Kids for Cash, March 6, 6 p.m.
WORKING PANEL DISCUSSION, March 26, 6 p.m.
Juvie Justice in the 21st Century: The Cost of Confinement
TEEN DAY: Tees for Teens, April 5, 1-3 p.m.
This exhibition courtesy of Richard Ross and http://www.juvenile-in-justice.com. The Wichita presentation of this exhibition is generously supported by the Kansas Health Foundation; Office of the Vice President and General Counsel, WSU; Keith and Georgia Stevens; Wichita State University; and the City of Wichita.
About Richard Ross
Richard Ross has been the recipient of grants from the National Endowment for the Arts and the Annie E. Casey Foundation, as well as Fulbright and Guggenheim Fellowships. Ross was the principal photographer on many architectural projects for the Getty Conservation Institute and the Getty Museum. He has photographed extensively for the Canadian Center for Architecture, Nike, The New York Times, The Los Angeles Times, San Francisco Examiner, Vogue, COLORS, Courrier, and many more. Ross has taught at the University of California, Santa Barbara since 1977.
About the Ulrich Museum of Art
Located on the campus of Wichita State University, the Edwin A. Ulrich Museum of Art is home to the renowned 76-piece Martin H. Bush Outdoor Sculpture Collection–––rated one of the top collections of its kind by Public Art Review–––and a permanent collection of more than 6,600 works of modern and contemporary art. Established in 1974, the Ulrich Museum seeks to expand human experience through encounters with the art of our time. To learn more about the programs, events and exhibitions at the Ulrich, visit http://www.ulrich.wichita.edu and follow the Ulrich on Facebook (ulrichmuseum) and Twitter (@ulrichmuseum). The galleries are open Tuesday 11 a.m.–5 p.m., and for extended hours Wednesday through Friday 11 a.m.–8 p.m., and weekends 12–6 p.m. Admission, parking, and group tours are free.