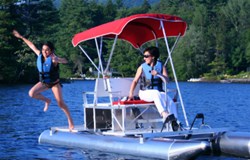 The Aqua Cycle is like a golf cart on the water – offering a stable platform for boaters of all ages to enjoy their leisure lifestyle on the water.
Atlanta, GA (PRWEB) January 08, 2014
Leisure Lifestyle Products, LLC, the exclusive southeast distributor of Aqua Cycle products, will be displaying the innovative pontoon paddle boat and a revolutionary water bike, itBike, at the well-known Atlanta Boat Show at the Atlanta World Congress Center on January 9th-12th.
The products that will be featured at the exhibit are Aqua Cycle's all-aluminum pontoon paddle boat which offers a stable, one-of-a-kind, versatile platform for all ages to enjoy and the all-new itBikes water bike. The striking structure of the Aqua Cycle is an inexpensive, low maintenance, must-have product for on-lake family adventures of all kinds and rental businesses. Built with only the best materials, many of the 40-year-old "original" Aqua Cycles are still on the water today. There are four different Aqua Cycle pontoon paddle boats that accommodate everyone's different needs and uses.
The itBike is a fun, on-water bicycle frame that is attached to a high-density polyethylene (HDPE) hull creating a sporty, yet stable platform for any adventure seeker and offers a much more compact form factor for easy transport on the top of a car or in the back of a pick-up truck. Both the Aqua Cycle and itBikes offer a wonderful on-water experience and are being well received by many rental operations around the country and globe. Those interested in learning more about these products can visit Leisure Lifestyle Product's exhibit at Booth 301 at the show.
"We have seen a tremendous uptake in customers choosing the Aqua Cycle Paddle boat for their boating needs. The Aqua Cycle is like a golf cart on the water – offering a stable platform for boaters of all ages to enjoy their leisure lifestyle on the water," said Rob Rothley, owner of Leisure Lifestyle Products. "During this past year, we have delivered many boats to the large nearby lakes: Lake Lanier, Lake Hartwell, Lake Martin, Lake Wedowee, Lake Eufala and many other smaller lakes and ponds."
About the Atlanta Boat Show:
Georgia's premier boat show will be featuring hundreds of new boats, including powerboats, center consoles, ski boats and personal watercraft, and booths showcasing the latest in engines, marine gear, electronics and accessories. The 4-day event is the once-a-year chance to compare makes and models, secure insurance and financing and gear up with the latest accessories all at one time. For tickets and more information, visit http://www.atlantaboatshow.com.
About Leisure Lifestyle Products, LLC:
Leisure Lifestyle Products is the Exclusive Southeast Distributor for the Aqua Cycle Line of Products with the distribution and final assembly warehouse facility located in Peachtree City, GA. Leisure Lifestyle Products covers Alabama, Florida, Georgia, Louisiana, Mississippi, North Carolina, South Carolina, Tennessee and Virginia. To learn more about Leisure Lifestyle Products and Aqua Cycle, visit http://www.leisurelifestyleproducts.com.