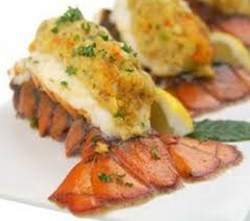 (PRWEB) January 09, 2014
Nothing says decadence like fresh Maine lobster. Combine lobster with caviar and the result is pure culinary bliss. With the Caviar Butter-stuffed Lobster, Chef Mac Arrington of GetMaineLobster.com has created a recipe that will have mouths watering and dinner guests demanding seconds and thirds.
Ingredients for this recipe include four jumbo Maine lobster tails with the top shell split, one stick of unsalted butter at room temperature, one tablespoon of caviar, one teaspoon of minced thyme, one teaspoon of minced oregano, one minced garlic clove, two cups of bread crumbs, one-half teaspoon of cayenne, one-half cup of olive oil, two tablespoons of minced chives, one-third cup of white wine, one-third cup of chicken stock, and kosher salt and pepper to taste.
Preheat the oven to 375 degrees. In a small bowl, combine the bread crumbs, thyme, oregano, one teaspoon of salt, cayenne, and a pinch of black pepper. Slowly work in the oil until the mixture is roughly the texture of wet sand. Using a sharp knife, split the top part of the lobster shell halfway through the meat. Next, stuff the opening of each Maine lobster tail with the bread crumb mixture. Then, place the tails on a foil-lined sheet tray. Drizzle the white wine and chicken stock over each of the lobster tails. Make sure to get this inside the shell to help create a delicious steam. Place the lobster tails in the oven and bake for 12 to 15 minutes until the bread crumbs start to brown over the cooked lobster meat.
While the tails are baking, gently combine the caviar and butter. Mix in the chives and season with some black pepper. Once the lobster tails are ready, remove them from the oven and finish under the broiler for two to three minutes if needed. Just before serving the Maine lobster tails, top each with a generous scoop of caviar butter and sprinkle with chives.
Who said that the celebrations had to stop after ringing in the New Year? Pop some champagne and continue the celebrations in style with this exquisite recipe from GetMaineLobster.com.
Browse Get Maine Lobster's wide range of seafood offerings, access other healthy lobster recipes or view current specials by visiting GetMaineLobster.com or call (866) 562-.4817. Stay updated and Like us on Facebook or follow us on Twitter.
About GetMaineLobster.com
GetMaineLobster.com, a division of Black Point Seafood and Black Point Gourmet, hand-selects the finest Maine lobster, seafood and beef products for convenient distribution throughout the United States. Their passion is to make fresh, quality seafood readily available to customers across the country, which is why they buy from only the most trusted, well-established suppliers to ensure that they receive the finest products available.
GetMaineLobster.com was selected out of the more than four million small American businesses served by Chase bank to represent its new Platinum Business Checking product for its 2013 national advertising campaign.