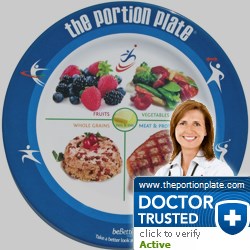 Chicago, IL (PRWEB) January 09, 2014
beBetter Health, Inc., a leading wellness company providing corporate wellness solutions and portion control tools, has been approved to display the Doctor Trusted™ seal of approval on The Portion Plate® website, http://www.theportionplate.com. The Portion Plate® is beBetter's tool to help employees and consumers make wise food choices, understand the importance of healthy portion sizes, and develop the habits of balanced eating. The Portion Plate® is consistent with the USDA MyPlate guidelines.
To earn certification, The Portion Plate® website underwent review by a verified medical doctor and passed the 12 ethical guidelines of the doctortrusted.org code of conduct that a website must reach before being certified. The criteria included fair pricing and return policies, reasonable medical claims, easy-to-locate customer service number, and protection of sensitive customer data, among others.
The certification strengthens The Portion Plate® brand as a reliable and effective tool that helps individuals and their families eat healthier and manage their weight. The Portion Plate® website displays the DoctorTrusted™ seal on the homepage, providing an easy, highly visible way for customers to check the product's legitimacy before making a purchase. This protects customers by promoting and reinforcing ethical business practices and accountability.
About beBetter Health, Inc.
beBetter is a corporate wellness company focused on making it easy for employers and their benefits consultants to deploy and manage effective wellness strategies. We connect all the programs, content, applications and reporting in an integrated, easily deployed system at a fantastic price. Learn more about beBetter's corporate wellness solutions at http://www.bebetter.com.
About The Portion Plate®
The Portion Plate® and beBetter's other brandable portion control tools are designed to help individuals remember healthy eating habits every time they sit down to eat. Portion Plates are durable, dish-washer safe and completely customizable for organizations who wish to create their own branded version. The Portion Plate® has been used by a half million dietitians, educators and consumers to reinforce balanced eating and a healthy diet. To see what The Portion Plate® can do for you, visit http://www.theportionplate.com.