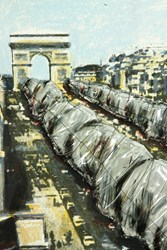 We are excited to see this work come to the market and feel it is well supported in this sale by several other works from Christo and Jeanne-Claude.
Beverly, Massachusetts (PRWEB) January 08, 2014
Kaminski Auctions is pleased to offer an outstanding Christo lithograph entitled "Wrapped Trees, Project for Avenue de Champs Elysees, Paris." The beautiful artist's proof lithograph is descended from Christo and Jean-Claude, prior to her death, as an outright donation benefiting Ovarian Cancer Research at the Massachusetts General Hospital Fundraising Auction in 2007.
The work of Christo & Jeanne-Claude has been widely followed, collected and critiqued throughout the last forty years of the twentieth century. The husband and wife team (born Christo Vladimirov Javacheff and Jeanne-Claude Denat de Guillebon respectively) met in Paris in 1958 and quickly became inseparable.
Shortly thereafter, they began actively working together to fashion outdoor sculptures and temporary large scale, environmental installations. Initially the team worked only under the collective name of "Christo," until it was decided in 1994 that outdoor sculptures and installations should be retroactively referred to as that of "Christo and Jeanne-Claude."
Preparatory drawings, lithographs and collages done only by Christo, which were routinely sold to finance ongoing endeavors, preceded each installation. The aforementioned lithograph is one such preparatory work, differing only in that the original proceeds were donated to charity. Similar preparatory works routinely sell well into the thousands on the secondary market. No project has ever been funded through sponsorship or donations and installations are facilitated through the assistance of hundreds of volunteers. The finished projects consisted of "wrapping" well-known buildings, landmarks and landscapes such as the shoreline of an island with vast amounts of vibrantly colored fabric.
The duo maintained their artistic intent is only to encourage viewers to consider familiar landscapes in new ways while promoting joy and beauty, denying any deeper meaning to their work. This statement has and continues to incite controversy among art critics and collectors alike, particularly because Christo himself has classified the work as having "legendary character." He attributes this characterization to the vanishing nature of the temporary installations. One such example is "The Gates: Central Park, New York City," which was unveiled on February 12, 2005 after twenty-six years of preparatory work beginning in 1979. Seventy-five hundred saffron colored fabric panels, or "Gates" stretched across twenty-three miles of Central Park and remained for only sixteen days, attracting visitors from across the globe to the tune of approximately four million.
Born on the same exact date, June 13, 1935, the couple was notoriously close knit until Jeanne-Claude's sudden death from a brain aneurysm in 2009. Christo and Jeanne-Claude maintained an intense loyalty not only to one another, but also to their work and demanded that each fly in separate planes in case one should crash. This would allow for work to continue under the direction of the surviving artist.
Christo himself continues to create large-scale installations and exhibits preparatory work regularly in well-known galleries and museums throughout the world. Upcoming exhibits of preparatory, small-scale work can be found at the Albuquerque Museum of Art and Art History from February 16th to May 4th, 2014 and at the Museum of Contemporary Art San Diego La Jolla from January 31st to April 6th, 2014.
Preview for this exciting sale is Thursday-Saturday, January 9th-11th !0:00am-5:00pm and day of sale beginning at 8:00am. Bidding is offered in person, online, by absentee or phone bid starting at 10:00am EST at the Kaminski Auctions gallery at 117 Elliott Street, Rte 62, Beverly, Massachusetts. For more information and to sign up to bid online through KaminskiLive go to http://www.kaminskiauctions.com or call 978-927-2223.