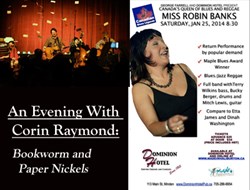 Seeing a performance by an internationally known artist in a small intimate setting in the Haliburton Highlands is a magical experience.
Minden, ON (PRWEB) January 09, 2014
Two concerts happening in the Haliburton Highlands, Ontario, Canada are worth taking a trip to come and see. The online art gallery, MadeInHaliburton.ca, is featuring two artistic performances in the next month that are presenting well-known and unique Canadian talent: one for Jazz lovers and the other for anyone who likes the combination of storytelling and music.
Blues and Jazz lovers should not miss Robin Banks on January 25th at the Dominion Hotel. Robin is said to be a master of tone and phrasing. Robin Banks has a vocal style, strength and clarity that has been compared to Etta James and Dinah Washington but with the charisma and boldness of a Tina Turner.
Robin Banks is clearly comfortable with Jazz, R & B, Soul and even Reggae. She is a recipient of a Maple Blues Award for New Artist of the Year and was twice nominated for Female Vocalist of the Year. Robin travels internationally to perform but, has made her home in Toronto, Ontario.
For something a little different, that combines a love of literature and song, why not take in "An Evening With Corin Raymond: Bookworm and Paper Nickels" on February 7th at the Northern Lights Pavilion? Whether with spoken word or song Corin Raymond is known for the richness of his storytelling. His most recent CD is appropriately titled "Paper Nickels" – referring to the fact that it was fully funded by the collection of Canadian Tire money through a crowdsourcing project. The performance at the Northern Lights Performing Arts Pavilion in Haliburton, Ontario February 7th will treat the audience to a bit of both Corin's talents. He will first perform his recent successful "fringe" play "Bookworm" that tells a powerful emotional story of a father and son relationship. This will be followed by a selection of both eloquent and honest music from the "Paper Nickels" CD. He will be joined by two other amazing musicians for the second half of the show: Treasa Levasseur and Brian Kobayakawa.
The Arden Theatre states that "be it through dramaturgy or music, he opens his audience up to intimate moments and experiences that make you who you are".
If taking a trip just to see a musical performance is not reason enough then consider all the other things that the Haliburton Highlands have to offer. Fall in love with winter by trying snowmobiling, snow shoeing, cross country skiing, or dog sledding. If the outdoors is not attractive then try an art course at the Haliburton School of the Arts or a specially arranged art experience or outdoor experience by Yours Outdoors.