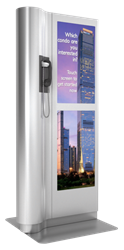 Franklin, NH (PRWEB) January 08, 2014
Advanced Kiosks, one of the largest producers and innovators of self-service kiosks in the country, is proud to announce the release of its i2 Kiosk. Designed specifically for advertising and promotion, the i2 is Advanced Kiosks' biggest and boldest model yet, but what sets it apart is the sheer volume of high-definition display space.
The i2 is a sleek, 6-foot-tall standout with a 46" LCD monitor that grabs attention from across the room and two 32" interactive LCD monitors to engage even the most reticent passersby. This unprecedented, three-monitor configuration caters to the retail and hospitality industries, but is predicted to be the solution of choice for any organization that relies on innovative marketing.
Advanced Kiosks Founder and President Howard Horn has been designing computer kiosk hardware and software since 2000. "The self-service kiosk industry is coming of age. These machines are becoming commonplace for today's consumers, so the time was ripe for a fresh, new design that is head and shoulders above the rest," Horn explained. "The i2 is next generation; it's the logical evolution of our popular iKiosk model that came out in 2005. I2 is already generating great buzz, and we're excited about that."
Retailers will use the i2 to promote sales, discounts and new products. Customers can sign themselves up for loyalty cards, reward programs and email notifications so cashiers no longer have to double as data entry clerks. For the hospitality industry, the i2 is perfect to introduce a facility to new guests, touting amenities and services. But i2 buyers hail from all sectors of the economy.
Pacific University in Oregon was first to order the i2. The private university will be using the kiosks for wayfinding and to spotlight prominent donors. For nonprofits like Pacific, the i2 is a public information tool that engages a diverse target audience.
Like all Advanced Kiosks' products, the i2 is fully customizable. Buyers can swap out monitors for changeable poster space to allow quick and affordable rebranding. Printers, credit card readers and VoIP handsets are all popular add-ons. The i2 Kiosk is guaranteed to get attention. What it does with that attention is entirely up to you. The possibilities are endless.
About Advanced Kiosks:
Advanced Kiosks is a premier supplier of state-of-the-art computer kiosks, providing interactive turnkey solutions designed, engineered, manufactured and supported right here in the United States. Advanced Kiosks has many off-the-shelf, self-service kiosk designs and can also create custom-built hardware with fully customizable software for the most personalized self-service kiosk experience possible. Advanced Kiosks commitment to quality and service is unparalleled and backed by an unmatched three year, end-to-end warranty.