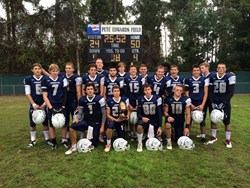 The most impressive aspect of our team is that several of our players were inexperienced and quickly took to the game, while also excelling in their schoolwork.
Clearwater, FL (PRWEB) January 08, 2014
Despite the debate of the importance of academics versus athletics for children, studies show that youth involvement in sports is beneficial to instilling healthy habits and behaviors in young adults (1). Clearwater Academy International (CAI) has found a way to balance academia and athletics, with students excelling in both the classroom and extracurricular activities. As a result, the CAI Knights recently topped off two consecutive, undefeated football seasons with a victory at the 2013 NHSA Football Tournament in Panama City Beach, Florida. The Knights ended the 2013 season with a record of 9-0 before securing the national Division II championship against the Georgia-based Coastal Hurricanes.
The argument against the propensity of Americans to emphasize high school sports participation, on-the-field success and strong academia are not mutually exclusive—research shows that schools with strong athletic programs have higher test scores and lower drop-out rates (2). CAI is one school that encourages success for students across all platforms—CAI's football team has completed several successful seasons, which recently culminated with the Knights securing a Division II national championship; the players also regularly participate in a variety of extracurricular activities, including photography, drama, music and writing. CAI also encourages the players to become Community Emergency Response Team (CERT)-trained to be prepared for emergency situations that may arise in the community. After finishing an undefeated season in Florida's seven-man high school football league for the second year in a row, CAI entered the NHSA eight-man tournament, held nationally every year. This year's participating teams included high school students from California, Louisiana, Tennessee, Georgia and Florida.
The Knights first faced the Archangels from Louisiana in the first round, and won with a 68-14 victory. The following day, CAI squared off against the unbeaten Coastal Hurricanes from Georgia. The hard-fought game ended in a 50-24 victory for the Knights, who returned home as the Division II national champions.
Jim Zwers, CAI's Executive Director, says the win is a testament to Clearwater's coaching staff, as this was the first time the team played the eight-man format. CAI's football team consists of students from all over the world, and the coaching staff has reported very successful methods of training players with limited background or familiarity in the mostly American game of football. CAI used its educational methodology to teach football basics to the players, resulting in rapid understanding and the ability to apply the information on the football field.
"Our players and coaches worked hard to achieve the win, and I couldn't be prouder," said Zwers. "The most impressive aspect of our team is that several of our players were inexperienced and quickly took to the game, while also excelling in their schoolwork."
CAI's curriculum involves college prep and utilizes the educational methodology of Applied Scholastics, a non-profit public benefit corporation that addresses head-on the problem of illiteracy by making broadly available notable discoveries in the field of education and literacy.
CAI also offers students the opportunity to participate in several extracurricular activities, including, but not limited to, artistic, fine arts and performing arts programs, basketball and cheerleading.
For more information about the Clearwater Academy International, please visit http://www.clearwateracademy.org.
Clearwater International Academy Knights
About Clearwater Academy International:
Founded in 1984, the Clearwater Academy International (CAI), an Applied Scholastics™ school, offers a fresh perspective on education by harnessing the power of the students' goals and directing their education to align with their own interests. Its mission is to educate each child to his or her fullest potential and beyond, culminating in an eagerness to take their place in the world and contribute to society in their field(s) of endeavor. With tailor-made programs, each student becomes a priority. Students are designed individual courses that best match their own interests and skills, while also addressing any areas that need improvement. For more information, please visit http://www.clearwateracademy.org.
1.Bruen, Judy. "What Are the Benefits of Sports for Children?" Livestrong.com. Live Strong Foundation, 18 Mar. 2010. Web. 09 Dec. 2013. livestrong.com/article/95377-benefits-sports-children/.
2.Bowen, Daniel, and Collin Hitt. "High-School Sports Aren't Killing Academics." Theatlantic.com. The Atlantic, 2 Oct. 2013. Web. 09 Dec. 2013. theatlantic.com/education/archive/2013/10/high-school-sports-arent-killing-academics/280155/.