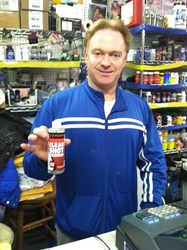 Barry Dehart is thrilled to be entering his 20th year in business by announcing an incredible product giveaway contest of Giant Delicious Protein and CellFood.
Englishtown, N.J. (PRWEB) January 08, 2014
Barry Dehart, a leading expert in the nutritional/dietary supplement industry and owner of PlayTime Concepts in Englishtown, New Jersey and mysupplementshop.com is thrilled to be entering his 20th year in business by announcing an incredible product giveaway contest for two lucky winners. The contest will run throughout the month of January 2014.
First prize in the Playtime Concepts – mysupplementshop.com 20th Year Celebration Product Giveaway Contest is a 30 day supply of Giant Delicious Protein, considered one of, if not the best taking protein shake ever offered by the sports nutrition industry.
Giant Delicious Protein is produced by Giant Sports Products, LLC of Brick, N.J. The company was founded by three like-minded individuals, Joe Babick, a veteran flavoring expert in the sports nutrition industry, venture capitalist and packaged foods executive, Peter Jungsberger, and Bruce Kneller, a universally recognized sports nutrition product formulator with a vision to create nutritionally superior and great tasting products with the goal of increasing human performance and transforming more physiques than any other company in sports nutrition history.
Giant Delicious Protein boasts an amazing delicious taste and texture along with a superior nutritional composition. Each serving contains a whopping 27g of the highest quality whey & milk proteins with only 4 grams of carbohydrates and 2 grams of fat. In what may be a sports nutrition 'first', Giant Delicious Protein has been reviewed and approved for safety by Dr. Stephen Schmitz, MD, MPH, a board certified physician. Dr. Schmitz also serves on the Giant Sports Products Strategic & Scientific Advisory Board. Giant Delicious Protein was named 2012 product of the year by one of Canada's leading nutritional supplement retailers.
Second prize in the Playtime Concepts – mysupplementshop.com 20th Year Celebration Giveaway is a 30 day supply of the world's #1 selling oxygen + nutrient supplement, CELLFOOD.
CELLFOOD contains 78 minerals, 34 enzymes, and 17 amino acids, utilizing a proprietary water-splitting technology that provides a powerful stream of bio-available oxygen plus 129 nutrients directly to the cells. CELLFOOD is a powerful antioxidant. Antioxidants are directly responsible for the prevention of cellular damage by neutralizing and eliminating free radicals. In a recent study, CELLFOOD was shown to decrease excess free radical activity by up to 27%. CELLFOOD also helps detoxify the body and balance pH. See Barry Dehart's video on the benefits of CELLFOOD attached to this release. The benefits of CELLFOOD.
CELLFOOD is produced by Sarasota, Florida based Lumina Health. Lumina Health was founded by brothers, Mark and David Rubin with the goal of developing, marketing and distributing cutting-edge health supplements.
"I am excited that Giant Sports with their incredible tasting and nutritionally superior Giant Delicious Protein Shake and Lumina Health with the amazing detoxification properties and other benefits of CELLFOOD have agreed to help me celebrate my 20th year in business by giving away 30 day supplies of their products to two lucky individuals this month. I know the winners will be more than pleased with how these products help improve their lives and health," said Dehart.
About:
Known to his loyal clients as My Supplement Guy, Barry Dehart is entering his 20th year in business and living his dream of helping people enhance their lives through better health and fitness with high quality and scientifically proven nutritional supplements at PlayTime Concepts in the Englishtown Flea Market, the largest flea market in New Jersey and mysupplementshop.com. As an athlete, Barry was keenly interested in getting bigger, faster, stronger and healthier. He began to study the benefits (and pitfalls) of nutritional supplements in a big way. Barry continues to study and stay up to date on all the latest information relating to nutritional and dietary supplements today. Barry's live entertaining and educational product demonstrations at PlayTime Concepts are always packed and receive rave reviews.
Dehart has special expertise in sports supplements, vitamins and minerals, and detox supplements Barry is also considered somewhat of a Sherlock Holmes in the nutritional supplement industry, developing a vast network of connections within the nutritional supplement industry over the years that allows him to uncover hard to find mystery products with amazing benefits that has endured him to his loyal customer base.
Barry Dehart lives in Central New Jersey with his wife, Mary.