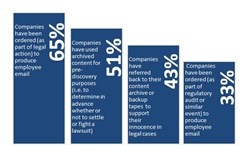 ".... and we followed through on that promise, as shown through our quarterly releases"
Mendota Heights, Minnesota (PRWEB) January 08, 2014
Intradyn, the leading expert in email archiving and e-Discovery, has announced the close of another successful year, in which they not only met, but exceeded their goals for 2013.
For their tenth year, Intradyn set out to do more than just grow numbers for their email archiving products. According to President and CTO, Azam Qureshi, "We promised our customers and partners that we would have gradual, significant updates to our email archiving solution that would provide them with a more cost-saving and an efficient workflow—and we followed through on that promise, as shown through our quarterly releases." These quarterly releases introduced many new features and capabilities, including:
o- Federated search capability - a technology that lets users search multiple appliances simultaneously for maximum speed and efficiency.
o- Print to PDF - which allows users to quickly save PDF versions of their files for ease of reference.
o- Outlook 2013 plug-in - which streamlines use with Microsoft's most popular e-mail and calendar software.
o- Exchange 2013 - compatibility gives subscribers a broader range of options by enabling use with the Microsoft Exchange server.
o- Native PST and GWArchive import - which enables more streamlined migration process.
Scalable storage lets users decide what amount of storage is right for their needs.
o- Remote backup optimization - a feature that saves time and reduces stress by enabling users to back up remotely much quicker.
o- Orca Virtual Appliance available in Microsoft HyperV environment - an option that provides more implementation solutions
o- Granular email retention management - giving users more control over the emails that are archived.
o- Plus over 100 new enhancements and 250 optimization features for the system
Intradyn is pleased with this year's success and anticipates an even better year to come. Stay tuned for more exciting, cost-saving features and compliance tools in 2014.
About Intradyn
Intradyn is a privately held company that was founded in 2001 with a vision of creating a next-generation; disk-based network backup and archiving appliance that could solve three common problems by assuring a successful backup, increasing retrieval speeds, and preventing restore failures. In 2004, Intradyn introduced a first-of-its-kind email archiving appliance for small to mid-sized organizations.
Today, Intradyn is a recognized e-Discovery and email-archiving leader, producing cutting-edge products for organizations of all sizes. Additionally, Intradyn licenses its solutions to leading technology companies in its vertical markets that wish to private label. Intradyn's email archiving appliances are deployed throughout the Americas, Europe, Middle East, and the Asia Pacific Rim.
Additional information about Intradyn's new and upcoming features is available from the company's website, http://www.intradyn.com, or by calling 800-284-4156