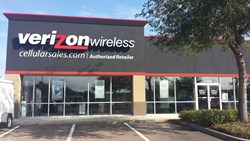 We saw a chance to move into this great shopping center, and renovate a vacant space, so we jumped on it.
Tampa, Fla. (PRWEB) January 08, 2014
Cellular Sales, the nation's largest premium Verizon Wireless retailer, with approximately 570 U.S. locations, is announcing the grand opening of a new store in Goolsby Pointe Shopping Center in Riverview.
The store, which opened Dec. 9, occupies a long-vacant building that was formerly a Hollywood Video. This is the eighth Cellular Sales location in Hillsborough County, adding to the more than 90 stores the company operates across the Sunshine State. Already having created 10 jobs, the new store Cellular Sales is still hiring.
"We saw a chance to move into this great shopping center, and renovate a vacant space, so we jumped on it," Sarah Taylor, regional director at Cellular Sales, said. "The people of Hillsborough County have been very good to us, and we're happy to have the opportunity to add to our presence in this area."
Cellular Sales offers many options for those looking for mobile, internet and television solutions. In addition to the smartphones and tablets available, the Riverview store will also offer home-phone service, internet hot spots, cable TV and satellite through DirecTV.
"We have a wide variety of products that include more than just mobile phones," said Cheyenne Jenkins, regional director for Cellular Sales. "In addition to our diverse product lineup, we also offer the best customer service experience in the business."
Dedicated to customer service, Cellular Sales focuses on offering a one-to-one sales experience that takes the mystery out of wireless shopping and simplifies the sales process for consumers.
"We understand that mobile devices play an important part in the lives of most Americans," Dane Scism, founder and CEO of Cellular Sales, said. "From email and shopping to staying in touch with your kids, technology is always at your fingertips. Our pledge is to make wireless shopping as fun and helpful as possible. At the end of the day, it's all about the customer."
About Cellular Sales
Headquartered in Knoxville, Tenn., Cellular Sales was founded in 1993 and was named by Inc. Magazine as one of the nation's fastest-growing privately owned retailers for five consecutive years. The company currently employs nearly 4,500 people and operates more than 560 stores nationwide. Job seekers may call Cellular Sales Recruiter Vance Hall at 813-394-5846 or visit the Cellular Sales employment page to search current openings at the Riverview store located at 11709 Boyette Road, Unit 118. For more information on the company, visit cellularsales.com.
# # #