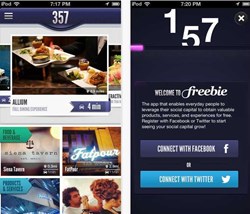 Chicago, IL (PRWEB) January 08, 2014
Ensemble announced today that Freebie has become the first portfolio company of Ensemble's recently launched digital services suite and "startup excubator" model. Freebie is a next-generation social influencer marketing platform that allows companies to get a tractable ROI by offering free products and experiences to socially influential consumers.
Launched in August 2013, Ensemble's business model is designed to materially increase an entrepreneur's stand-alone odds of success. Powered by a team of digital experts, Ensemble's "excubator" model aggregates the required skillsets needed for the rapid growth of digitally-focused, early-stage technology companies. Ensemble's "digital lab-in-a-box" services include capital raising, business consulting, technology development and marketing services from Chicago's best-in-class service providers.
"Freebie is everything we were looking for in supporting a game-changing startup, including a large market opportunity powered by a great management team," said George Deeb, managing partner of Red Rocket Ventures, a founding member of Ensemble. "We have been impressed with Freebie's traction and success in driving a social marketing ROI for big-name clients to date. Supported by Ensemble, Freebie will revolutionize the way consumer brands market through social media, via peer-to-peer endorsements instead of paid advertisements."
Freebie rewards socially influential consumers with free products or exclusive experiences in exchange for sending one automated post with their social networks. Consumers are personally rewarded for the value of their social influence, and the engagement potential of their social followers for the offering brands. The higher a user's social influence score on Freebie, the higher the value of free products and exclusive experiences he or she will qualify for.
Ben Rosenfield, founder and CEO of Freebie, said, "We came to Ensemble because we wanted to work closely with a core group of digital experts who understood how to quickly and affordably scale a startup. I am confident that Ensemble's all-star team will help us to accelerate our efforts in a coordinated way from proven industry playbooks."
The Freebie app is currently available for iOS on iTunes, with a web and Android version due out this quarter. For more information on Ensemble services, visit http://www.EnsembleHQ.com.
About Ensemble
Founded in 2013, Ensemble is a cooperative cross-marketing alliance of award-winning digital service providers in Chicago, each with specific and unique expertise. The current members include Red Rocket Ventures (business consulting & capital raising), Ora Interactive (technology development & design), Loud Interactive (search engine optimization), SocialKaty (social media marketing) and Walker Sands Communications (public relations). This alliance structure better serves clients, as compared to generalist agencies, allowing member companies to stay deeply focused in their respective skill sets. At the same time, this model offers clients materially higher odds for success, given the deep domain expertise and 20-40 percent cash discounts available to clients that engage the collective services of Ensemble members. Ensemble's digital services suite is a next-generation alternative for entrepreneurs looking for do-it-for-me solutions from a team of digital experts.
About Freebie
Freebie is a next-generation social influencer marketing platform that allows companies to offer exclusive access and free products/remarkable experiences to socially-influential consumers who serve as brand ambassadors to their social followers on social networks. Freebie leverages peer-to-peer endorsement to bring companies increased awareness/traffic/sales, valuable analytics at the social influencer level and a clearly measurable ROI on the company's social marketing spend – all by letting the product sell itself through organic word-of-mouth marketing via social influencer communications. With Freebie, users are personally rewarded for the value of their social influence. To learn what free products and amazing experiences may be waiting for you, check out http://www.freebieapp.com or download the free iOS application.