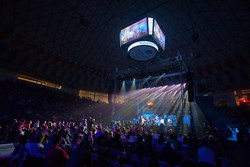 Lynchburg, VA (PRWEB) January 07, 2014
A record crowd — more than 8,500 people from 31 states — packed Liberty University's Vines Center, Dec. 30 and 31 to ring in 2014 at Winterfest, the largest Christian New Year's celebration on the East Coast.
Millions more tuned into the festivities which were broadcast live for the first time on television stations around the world. In cooperation with the Liberty Flames Sports Network, Winterfest aired in more than 40 cities across the United States — including Chicago, Honolulu, San Francisco, and New York City — and at least 20 other countries, from Canada to China, reaching a potential 200 million homes.
Monday's lineup featured heavy metal rockers Skillet, along with The City Harmonic, Tenth Avenue North, and Humble Tip, followed by campus pastor, author, and evangelist Clayton King. On New Year's Eve, King and YouTube sensation and spoken-work artist Jeff Bethke opened the final three acts — Building 429, Third Day, and Audio Adrenaline, featuring Liberty alumnus Kevin Max.
The event also hit a record for most fans at a Q&A session, when 841 showed up to meet the teens from A&E's hit reality series "Duck Dynasty." Liberty Presents: Artist Q&As were held each afternoon and gave guests the chance to interact with band members and speakers.
During the festival, nearly 150,000 impressions were received on Twitter at #ExperienceLU. Liberty's social media staff responded to more than 1,000 tweets.
"The exposure for Liberty was unbelievable," said Chris Johnson, Liberty's senior vice president for Enrollment Management.
Johnson said the festival attracted youth groups from around the region.
"They have an opportunity to bring young people, believers and non-believers, to a structured Christian event that's got a great message," he said.
Hearts were set on fire for God each night, prompting a record 503 people who committed their lives to the Lord, each receiving a Bible and a book written by King.
In between the on-stage events, thrill-seekers got in the holiday spirit by participating in a wide range of recreational activities from skiing, snowboarding, and tubing at Liberty Mountain Snowflex Centre to ice skating at the LaHaye Ice Center and skateboarding at the Liberty Mountain Skate Park. Others enjoyed rock climbing, swimming, and basketball at the LaHaye Student Union.
Liberty also received record numbers of applications (1,279) and inquiries (906), up nearly 25 percent from last year. (Get more information about Liberty.)
President Jerry Falwell, Jr. said this year's event would not have been so successful without the hard work of Liberty's dedicated staff members.
"Senior Vice President Chris Johnson ('94, '08) and his Enrollment Management team, along with Senior Vice President Ron Kennedy ('96, '06), and his Marketing staff, went the extra mile to make Winterfest such a phenomenal success. Liberty is blessed to have this committed team whose passion for Liberty and its Christian mission has made Liberty the fastest growing nonprofit university in the nation over the last decade. Chris and Ron are the best university recruitment officers in the nation in my opinion," said Falwell.
About Liberty University
Liberty University, founded in 1971, is the largest private, nonprofit university in the nation, the largest university in Virginia, and the largest Christian university in the world. More than 100,000 students attend classes on its 7,000-acre residential campus and study in its thriving online education program.