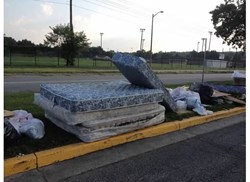 In 2014, we look forward to working with each state's regulatory agencies and stakeholders to implement the new laws.
Alexandria, VA (PRWEB) January 08, 2014
In Connecticut, Rhode Island and California, mattress recycling programs are now the law. In 2014, the mattress industry will develop comprehensive public policy programs to implement these laws.
Ryan Trainer, president of The International Sleep Products Association (ISPA) stated, "Each state's mattress recycling program will establish a sensible, cost-effective approach to mattress recycling that is funded through a small fee collected from consumers at retail."
On Monday, January 27 at 2:00 p.m., during the Las Vegas Market, ISPA will host an interactive session, 'Mattress Recycling 2014 – Roles & Opportunities' in Building B, Space B-954, to discuss the new laws, how they will be implemented, and educational outreach efforts for both the industry and consumers. ISPA encourages mattress retailers, manufacturers and recyclers to attend the session to learn more about the new requirements and to become engaged in the implementation process.
Trainer concluded, "Our industry worked hard in 2013 to make the mattress recycling bills that were enacted more practical and efficient. The purpose of these laws is to harness existing infrastructure to minimize the environmental and financial impact of discarded mattresses. In 2014, we look forward to working with each state's regulatory agencies and stakeholders to implement the new laws. We urge market attendees to join us to learn the latest information about this process."