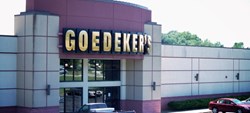 The list of top selling appliances is part of Goedeker's mission to provide customers with the information they need...
Ballwin, MI (PRWEB) January 08, 2014
Internet appliance retailer Goedeker's has released a list of their top selling home appliances for the last quarter of 2013. The list covers refrigerators, ovens, washing machines and eight other categories of home appliances from major brands including GE, Samsung, Whirlpool, and Frigidaire.
The list of best selling home appliances for the end of 2013 was posted on the company's blog Wednesday.
The fourth quarter best sellers list provides information on the last three months' preferred purchases, as well as a look at what has changed since the third quarter sales. The company noted a definite shift in the top selling refrigerators, while other categories, such as washers and dryers, saw little change over the latter half of 2013. Other interesting trends were the greater popularity of induction cooktops and ranges, and an apparent preference for simpler, smaller refrigerators over the last three months.
The list of top selling appliances is part of Goedeker's mission to provide customers with the information they need to make the crucial decisions necessary when purchasing major appliances, especially on the internet. As an authorized retailer of the most popular brands, Goedeker's is in a position to provide an unbiased list of the best selling appliances over the last few months, and has chosen to publish the list for its customers, designers, contractors, and industry media that rely on data of current industry trends.
The lists include the best sellers in the following categories: refrigerators, french door refrigerators, side by side refrigerators, freezes, ranges, cooktops, wall ovens, dishwashers, microwaves, washers and dryers. The list can be found at http://www.goedekers.com/blog/goedekers-best-selling-appliances-fourth-quarter-2013/.
Since 1951, Goedeker's has set the standard for excellence in the St. Louis retail appliance market. Since expanding online with Goedekers.com, Goedeker's has brought the same tradition of excellence to the nation. Goedeker's has continued to grow offering furniture, mattresses, and plumbing supplies, as well as major appliances from national brands.
For more information, or to schedule an interview with a representative of Goedeker's, contact Matt Davids at 888-768-1710 ext 343, or email social(at)goedekers(dot)com.