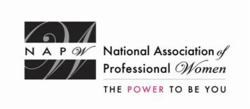 The more you participate, the more you will get out of the experience! You are the ones who create the experience, strength and depth of this Chapter.
Garden City, NY (PRWEB) January 08, 2014
Throughout the month of December, thousands of members and guests from NAPW Local Chapters across the country gathered at professional networking meetings. Some Chapters held charitable fundraisers, others hosted festive holiday parties; guest speakers were on hand to inspire at many events. All over the country, groups of professional women empowered each other by sharing their knowledge, their passions and their support.
"Members and guests enjoyed a lovely evening celebrating the holiday season and learning more about their fellow members – their strengths, expertise and aspirations," said Anjali Chugh, Forest Hills Chapter President. "All who attended exuded vibrancy, confidence and courage. As the evening progressed, everyone present felt a sense of empowerment. They also said that apart from focusing on their career, they never missed an opportunity to give back to the community. That was truly inspirational."
Similar to the Forest Hills Chapter, members gathered together to celebrate the many accomplishments and successes of 2013. They vowed to continue to work together, helping each other succeed professionally and personally with a commitment to giving back to their communities and beyond in the coming year.
In the spirit of the holiday season, many Chapters raised money and collected donations to help those less fortunate. Members and guests in Chicago, IL held a Networking for a Cause event. The fundraiser garnered nearly $1,000 in cash and donations for the Chicago House of Prima Donnas, which supports young women facing homelessness.
"The event was well represented by NAPW members and guests," said Megan Wessels, Chicago Chapter President. "Clarissa Pierre, representing the House of Prima Donnas, shared a touching story about her own experience, and Donna Roger, president and owner of the House of Prima Donnas, thanked everyone for their support!"
At the Collegeville, PA Local Chapter meeting, donations were collected and presented to Wendy McKeon of Moms House of Phoenixville. Member Kelly Chesney, independent chocolatier for Dove Chocolate Discoveries, generously donated 10% of all sales to the organization. The Morris County, NJ Chapter held an event to benefit Homeless Solutions and many members kindly donated a portion of the sales from their products and services to the nonprofit. At the Warwick, RI Local Chapter holiday party, members also showed their generosity by donating new and slightly used business attire to YearUp, an organization supporting students aged 18 to 24.
"Our group of 12 remarkable women enjoyed sharing experiences, thoughts, spirits and good food. There was a great turnout of donations made at our event and in conjunction with Cox Communication's HR team, over 300 pieces of clothing were collected. We were proud to help students dress for success!" said Pipier Bewlay.
Members and guests from Jacksonville, FL continued their Change for Charity initiative by supporting a local singer/single mom. In November, the Ocala, FL Chapter donated Thanksgiving baskets to five local families and in December the Chapter helped to brighten the holidays for 40 local children when they held their first Chosen Children's Christmas Party.
"We raised a little over a $1000, which enabled us to fill Christmas stockings for each child. At the party, we had face painting, pizza, drinks and dessert," said Ocala Chapter President Lisa Wyatt. "The children had an awesome time, and our 'Santa,' David Hall, was perfect. The children loved him!"
Many other Chapters, including Binghamton, NY; Joplin, MO; Loudoun County, VA; Midlothian, VA; Scranton, PA; South Orange County, CA; Springfield, IL and Delmarva, DE helped support individuals in need this year and pledged to continue making a difference in the coming year.
Inspiring guest speakers were on hand at many Chapter meetings in December. Groups of professional women gathered in Brandon, FL; Joplin, MO; Newport News, VA; Saratoga, NY; Rochester, NY; St. Petersburg, FL and Cincinnati, OH to listen to helpful tips and advice from industry leaders, career coaches and lifestyle experts.
The Washington, DC Chapter hosted two very special guests: Star Jones, NAPW Spokeswoman and Chief Development Officer and Louise Newsome, NAPW National Director of Chapters.
"Members and guests were electrified by the enthusiasm and energy of Ms. Jones and Ms. Newsome, who pledged NAPW's support of Local Chapters, when they visited in November," said President Deborah Leaner. "And in December, we crowned member Julia Iliadis the DC Chapter's '2013 Girl on Fire.' We hope to make this an annual event!"
Whether it was at casual meet-and-greets in Merrillville, IN and Wilmington, NC, at re-launch or first-time events in Orland Park, IL and South Denver, CO or at the hundreds of established Local Chapters across the country, NAPW members gathered together to celebrate and support one another's personal and professional successes and set exciting goals for 2014. Maurie Lung, St. Petersburg, FL Local Chapter President, summed it up best when she reminded members of the significant part they play in the success of their Chapter.
"The more you participate, the more you will get out of the experience! You are the ones who create the experience, strength and depth of this Chapter. I also invite you to suspend your certainty. By opening ourselves to a variety of experiences, we create relationships and connections and learning that we could never have anticipated," she told the group of professional women.
The National Association of Professional Women (NAPW) provides a forum where women can interact, exchange ideas, educate, network and empower. NAPW Local Chapters allow members to maximize their experience through meetings, networking opportunities and professional events.
For additional information regarding NAPW Local Chapters and/or NAPW, please visit http://www.napw.com.
Follow NAPW on Facebook http://www.facebook.com/pages/permalink/86092212700 and Twitter http://www.twitter.com/napwinc.