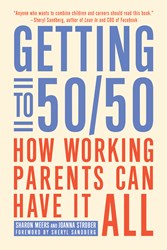 (PRWEB) January 08, 2014
Sharon Meers and Joanna Strober, co-authors of Getting to 50/50: How Working Parents Can Have It All, will share the advantages of working parenthood with Michael Krasny on KQED Forum today at 9am PST. Their interview on how to make working parenthood "work" will be followed by a book signing at the Book Passage in the Ferry Building in San Francisco at 12pm.
Meers and Strober were also recently featured on the US News and World Report in an interview on the challenges working mothers face, and how families benefit from working parents.
What People are Saying about Getting to 50/50 (available on audio)
"In light of the ongoing debate over how and if working mothers can have it all, the authors say women can have successful careers and be good moms, but only if their spouses are equal partners in the work at home."
—Washington Post
"Getting to 50/50 offers hope and help, perspective and advice and ultimately, some extraordinarily practical approaches to making a family work, regardless of the specific challenges that family faces.
—About.com
A refreshing, important and game-changing read that's set to do for the cultural dialogue around working families what Lean In did for working women, Getting to 50/50 offers encouragement, hope, and confidence to any woman who has ever questioned her choices regarding career and family. Among the topics explored in it are:
*What husbands win from having a working wife: more options, more money, a significantly decreased likelihood of divorce…and that's just the tip of the iceberg
*What women gain from working motherhood…which, among a multitude of desirable things, includes better health, a greater sense of well-being, being able to buy that dress you want, and empowering the next generation of women to seek their own victories and know the thrill of achievement
*The pre-baby road trip: breaking the news on breaking the news (to your boss) and negotiating leave you can come back from
*The post-baby uphill: test-driving 50/50, "baby boot camp," and getting back up to speed
*The dad difference: the stunning correlation between increased paternal involvement and higher self-esteem, economic-educational achievement and earning potential in children
Sharon Meers is the coauthor of Getting to 50/50, now out in paperback. Find her online at @gettingto50_50, Facebook.com/Gettingto5050 and http://www.gettingto5050.com. Currently, Sharon is the Head of Magento Enterprise Strategy, which is part of eBay Inc., a global commerce and payments leader. Formerly, Sharon was a Managing Director at Goldman Sachs.
Joanna Strober is Managing Director of a fund investing in private partnerships at Sterling Stamos, an investment firm in Silicon Valley and the founder of the "working stiffs" mom's group. As one of the few females in private equity in Silicon Valley, Strober has been featured in the front page of the Wall Street Journal for launching several well known companies.