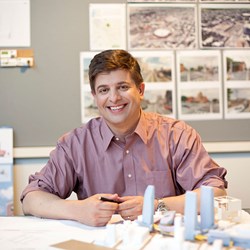 Architect of the Year -- one of the most prestigious service awards.
Princeton, New Jersey (PRWEB) January 08, 2014
In a ceremony that will bring together the leaders and brightest lights of the Garden State's building and design community, the New Jersey Society of Architects (AIA-NJ) -- a chapter of the American Institute of Architects -- will honor Princeton resident Joshua Zinder, AIA, with the title Architect of the Year 2014, one of the organization's prestigious annual service awards. The AIA-NJ Annual Awards Dinner, a black-tie event, takes place January 11 at Shadowbrook Estate in Shrewsbury, N.J.
Founding Principal of Joshua Zinder Architecture + Design (JZA+D), a growing multidisciplinary design firm located in Princeton, N.J., Zinder was selected from a distinguished field of candidates for the award. As the term "service award" implies, the honors are bestowed on a recipient who is not only distinguished as a designer of buildings but also as one who contributed significantly to the betterment of the architecture profession and the public it serves in New Jersey and beyond.
In particular, AIA-NJ will honor Zinder for his firm's approach to interdisciplinary professional collaboration. This philosophy views the design process as an endeavor that improves through the influence and inspiration of varied professionals, including interior designers, engineers, architects, artists and others. The benefits of this approach redound to clients, who receive the best possible result.
Zinder's philosophy is perfectly exemplified by his recent formation of a partnership with Marlyn Zucosky, IIDA, who became a partner of JZA+D in 2012 and helped expand the interior design practice within the firm. Other examples include the strategic partnership with colleague Michael Landau, FAIA: Zinder and Landau have combined their strengths to form the boutique firm Landau | Zinder, which specializes in synagogues and other spaces for religious worship, study and practice.
The work by JZA+D and Architect of the Year Zinder also includes a focus on sustainable design approaches, which carefully consider the impact each individual design element will have on a building's efficiency, healthfulness and effects on the surrounding environment. "We want our practice to rise above the trendiness and fashion that surround the idea of sustainability and instead focus on delivering a complete environment that is healthy for its occupants and our natural surroundings," says Zinder.
(Information on the firm is at http://www.joshuazinder.com, and the award event details are at http://www.aia-nj.org.)
JZA+D is an exemplary emerging New Jersey design firm, having doubled its staff in the past year alone. In early 2013, Zinder's expansion included new interior design clientele that he and director of interior design Zucosky assembled in the Princeton area.
In addition, the firm has produced remarkable new designs locally and globally, from the Nassau Street eatery Princeton Despaña to a recently opened restaurants in Las Vegas, Singapore and Macau. Their growing list of clients includes hospitality, retail, residential, corporate, and office projects, among others. Zinder says the expansion is largely attributable to the firm's core business philosophy of professional collaboration and sustainability.
The January 11th ceremony at Shadowbrook will include presentations of both Service and Design awards.