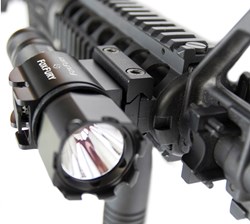 We always learn so much at SHOT Show. We're excited to meet everyone and debut our new lights.
VIsta, CA (PRWEB) January 08, 2014
FoxFury Lighting Solutions will unveil a new area lighting option and LED weapon light at SHOT Show 2014, a large annual trade show for the shooting, hunting, and firearms industry. FoxFury will showcase its portable, rechargeable area lights and other application-specific lighting tools in booth (#20458).
FoxFury's LED headlamps, shield lights, forensic light sources and rechargeable area lights have been used by law enforcement, military and professionals in the hunting and outdoor trade industry for over 10 years. An array of LED lighting tools will be on display in FoxFury's booth (#20458).
FoxFury will debut two new lights at this year's show. First, there is the SideSlide Picatinny weapon light. This unique rifle / shotgun light mounts quickly and securely to weapons with a Picatinny rail. The light features a unique mounting system that allows the light to be quickly transitioned to handheld use.
In addition, one of FoxFury's Nomad area lights will debut with an option that was previously not available. The option will allow the Nomad flood light and spotlight to be used in more ways and in new applications.
FoxFury will also have a booth contest to win a Nomad Prime Area-Spot light. To enter the contest, visitors will need to stop by the FoxFury booth to fill out an entry form.
"We always learn so much at SHOT Show. We're excited to meet everyone and debut our new lights," said Antonio Cugini, Director of Marketing for FoxFury.
SHOT Show will be held January 14 to 17 at the Sands Expo Convention Center in Las Vegas.
About FoxFury Lighting Solutions:
FoxFury Lighting Solutions creates unique and cutting edge lighting products that reflect the needs of our customers, who demand quality and dependability. FoxFury is best known for its niche LED headlamps designed for specific markets including Fire, Industrial, Hazardous Area, Law Enforcement, Forensics and Recreational. FoxFury was formed in 2003 and operates out of Vista, CA USA. You can follow FoxFury on Twitter @foxfuryLED.
About SHOT Show
SHOT Show is the world's premier exposition of combined firearms, ammunition, law enforcement, cutlery, outdoor apparel, optics and related products and services. The SHOT Show attracts buyers from all 50 states and more than 100 countries. The SHOT Show is owned and sponsored by the National Shooting Sports Foundation. You can follow the NSSF SHOT Show on Twitter @nssfshotshow.