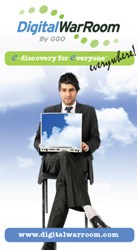 The goal of the CLE and our Webinar Series is to help people feel comfortable handling ESI, reviewing and producing documents in discovery.
Seattle, WA (PRWEB) January 08, 2014
Digital WarRoom, the leading platform for accessible, affordable ediscovery, will sponsor an education and networking cruise "Paralegals Navigating Perilous Waters", to take place January 31 – February 2nd 2014. The 3-day cruise from Miami to Nassau, Bahamas, will provide paralegals from across the US an opportunity to earn educational CLE credit while networking with legal professionals and subject matter experts.
Ediscovery consultant and Project Manager Paulette Keheley will offer a course in "Ediscovery: Everything you Always Wanted to Know, but Were Afraid to Ask." This highly interactive and fun course encourages participants to share knowledge and experiences in electronic discovery, while providing insight into the terminology, processes, and trends happening in the rapidly changing ediscovery field today. The course is a new offering in the Digital WarRoom Success Series, a practical education course in electronic discovery, offered via live sessions, webex, and video from the Digital WarRoom website.
"While Digital WarRoom provides electronic discovery software that enables legal professionals to conduct electronic discovery on their own, our mission also includes the delivery of practical, hands-on training and education in the concepts and processes in ediscovery" said Megan Miller, education spokesperson for Digital WarRoom. "We are thrilled to join forces with Linda's Paralegal Resources for this event. In addition to the live session, we plan to provide 5 or more hours of CLE credit to cruisers at no additional charge. The goal of our Success Series webinars is to get people feeling comfortable and confident in handling ESI and in reviewing and producing documents in litigation."
"We are excited to have the support and participation of Digital WarRoom in this educational event" said Linda McGrath-Cruz. "Our research shows that 88% of paralegals have involvement in ediscovery, yet many could benefit from a better understanding of the nature of ESI and how to best collect, process and prepare documents for the cases they face every day. The practical training on terminology and techniques from Digital WarRoom will be valuable for our attendees."
Linda McGrath is the founder of Linda's Paralegal Resources, and the creative force behind the unique, first-ever paralegal cruise. Linda's Miami-based paralegal resource was first set in motion in early 2010 and started as an e-mail newsletter. It grew over time to include a robust website. LPR provides paralegals and other legal staffers with information on free and low cost educational opportunities, career resources including job listings, practice tips, rule/fee change information and other practice resources.
Over 300 paralegals and legal experts will join the cruise for education and networking. Cruise details and registration information may be found on the "Paralegals Navigating Perilous Waters" website.
About Digital WarRoom e-Discovery Platform
Digital WarRoom is the first e-discovery platform to provide law firms, corporate legal and e-discovery teams with complete ESI processing, document review and production in a single application, eliminating traditional high-cost volume-based processing fees, and streamlining the ESI processing, filtering, and review into a single platform. The design of this all-in-one platform eliminates the risk inherent in moving data between disparate systems.
The Digital WarRoom platform is unique in its ability to create and save case data in a portable form. A case database created on any Digital WarRoom product can move seamlessly from Digital WarRoom Pro on a Windows desktop, to Digital WarRoom WorkGroup on a server behind the corporate firewall, or the DWR Remote full-service SaaS hosted environment, with all attorney work product preserved. This unmatched flexibility allows organizations to cost effectively handle early case assessments and complete e-discovery on routine matters in-house, while retaining the option for full-service hosted review on larger, complex and global matters. The features, menus and workflow are consistent, providing the ability to standardize the process of e-discovery for all matters regardless of size.
The Digital WarRoom platform has been acclaimed by e-discovery experts, law firms, and corporate clients as "impressive, seamless, and easy to use". An LTN product review compared the platform favorably with better-known but far more expensive solutions, saying "DWR seems to have adopted the best features offered by leading e-discovery software makers such as Clearwell and kCura Relativity and packaged them all together in one functional, integrated platform that can operate on a desktop, laptop, or computer in a distributed computing environment that incorporates other computers, such as a back-end database server." To learn more about Digital WarRoom visit http://www.digitalwarroom.com.