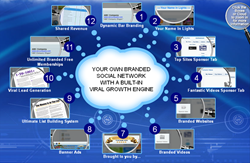 Nothing is constant except change.
(PRWEB) January 09, 2014
When it comes to the concept of social networks Smart Media Technologies has raised the bar a few notches with the release of Yobsn on May 6th 2013. Yobsn is something that has never been done in the history of the internet, until now. What makes Yobsn so different from other social sites is that it rewards members for being on the internet. Yobsn also offer several items of tremendous value to its members. Items like; Games where members can win prizes, Over 2500 video tutorials, Useful software, Daily, weekly, and monthly drawings, and much more.
The Yobsn business structure is quite different than other social networks that are owned and ran by one entity. Yobsn is a network of many social sites owned by several different Individuals, Companies, Charities, Clubs, and others. The name itself, Yobsn, is an acronym for "Your Own Branded Social Network". And unlike other social networks Smart Media offers two types of memberships in Yobsn. One, like the other social networks, is Free Membership. The other type of membership is something like a franchise/direct sales relationship. Smart Media offers Individuals, Businesses, Charities, Clubs, etc. the opportunity to own and run a branded social site, within the Yobsn network, by becoming a Yobsn Owner.
Parts of Yobsn come preloaded with all of the benefits available to all Yobsn members. Other parts are there for "Branding" by the Yobsn Owner. There are several different areas within Yobsn for customizing Yobsn Owners site to any business or group, starting with the Sign-In/Log-In page and the template of choice. There are several different templates that a Yobsn Owner can choose from to customize the site. There are also several modules in Yobsn that are exclusively for the Yobsn Owners use. With all of the branding capability available, Yobsn Owners are able to customize a social site to any charity group or business type from Fortune 500 Companies to Grandmas Social Group. Grandma's Yobsn could be all about cooking and recipes along with the social group. Almost anybody can find a need or reason to become a Yobsn Owner or a regular member.
The real breakthrough in technology that Yobsn has over other social site comes from the creation of the Dynamic Bar. When a member adds the Dynamic Bar to a browser it will appear at the bottom of the screen. The Dynamic Bar will stay on the members screen and give the user easy access back to Yobsn. Members also earn social points from the Dynamic Bar when they're on the internet.
The Dynamic Bar can be divided into three different areas. 1) Going across the top is a menu bar with links back to the users Yobsn pages which gives the member constant access. 2) The Lower left-hand corner of the Bar is reserved for the Yobsn Owners use. 3) The lower right-hand corner contains a 468x60 banner ad.
Smart Media Technologies didn't stop there though… Smart Media has taken all of the things that people love and created a Social Platform that offers; Games, Tutorials, Prize Drawings, Software, Social Points, Social Networking (Chat, Chirp, and Mail) and more. And it's all on one of the securest platforms on the internet.
There isn't a social network on the internet that is more concerned about its member's privacy issues then Yobsn. Privacy and Security are a huge part of what Smart Media is all about. These are some of the concepts that Yobsn was built on. Smart Media as create a social network that; rewards its users, is secure, is safe, and protects the member's personal information. Smart Media will not sale, give away, or misuse a member's personal information. Yobsn is designed for member's security and safety unlike anything else on the internet.
Yobsn is picking up speed as more and more people from around the world like the idea of getting rewarded for being on the internet and for the benefits Yobsn has to offer its members. Perhaps even more important is the issue of a user's private information. Yobsn doesn't collect very much information about its user. All it takes to sign-up for a membership is; First Name, Last Name, Email address, Password (member selects), and members Postal (zip) code. Yobsn ask for a little more information but it's all optional. These five items are all it takes to join and use the platform.
Coming soon…
Smart Media has announced that it is releasing a Mobile Version of Yobsn, Yobsn Mobile, on Feb 21st 2014. Anyone who is a Yobsn Owner at the Professional level will be automatically up-graded to Yobsn Mobile (Professional Plus) level.
Also coming soon is the world largest online store with over 800 million items from all around the world. Smart Media is also sharing a good percentage of this revenue with Yobsn Owners. With all that is coming to Yobsn this year some people are saying… "2014 is going to be the Year of Yobsn!"
To learn more about becoming a member or a Yobsn Owner use the links below…
To join and check it out, (no charge for memberships), go here;
http://www.bobteun.yobsn.com
To learn more about becoming a Yobsn Owner, go here;
http://bit.ly/TeamYobsn
To see the team site go here;
http://www.teamyobsn.com