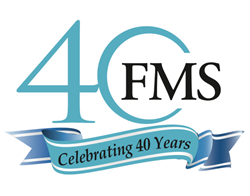 Baltimore, MD (PRWEB) January 09, 2014
This year, FMS Solutions (http://www.FMSSolutions.com) celebrates 40 years of providing independent retailers with financial, accounting and consulting services. Founded in 1974 by John Schock and Rudy Anderson, the goal of FMS was to provide independent retailers the tools they needed to increase efficiency and profits. FMS has steadily broadened its client base both in industries served and geography. While many things have changed within FMS over 40 years, its mission of helping the independents has stayed the same.
FMS is proudly the National Grocer's Association's preferred provider of industry benchmarking, best practices, and mission-critical decision support. FMS has also built strong relationships with many state associations, the IGA Institute, and wholesalers. These relationships have enabled FMS to share benchmark data and educational seminars for the entire independent retailer industry.
Bob Graybill, President and CEO of FMS stated, "As I look at our clients, I remember individuals with two stores that now have 7, or a five store operator now with 9 stores, or a 20 store operator with 32 stores. In addition to visible growth, watching an independent retailer with a single store fend off big box competition and be successful is sometimes more rewarding, especially when that store has been around for generations within a family. It is these stories that make working for our clients so rewarding."
Mark Ehleben, FMS Vice President, went on to add, "Our best-in-class customers are the real reason we are in business. Staying focused on our mission of 'Helping Retailers Succeed' has allowed FMS to grow and succeed along with our customers. Whether one store or a multi- store chain, FMS is focused on giving that independent retailer the real-time information they need to compete and succeed."
Some key milestones in FMS' 40-year history include:

1974 Company founded with 1st office in Cape St. Claire, MD
1982 First software applications customer on board
2000 Became minority Employee Stock Ownership Plan (ESOP) serving a total of 850 stores
2001 Launched cloud-based, On-Line Application
2005 Opened a 2nd office location in Murfreesboro, TN serving a total of over 1,500 stores
2006 Signed 1st International customer; Hilo Foods, Trinidad
2008 Opened 3rd office location in Pittsburg, PA serving a total of over 1,700 stores
2009 Became 100% Employee Owned ESOP
2010 Opened 4th office location in Portland, OR serving a total of over 1,900 stores
2012 Signed 1st Canadian Grocer
2013 Opened 5th office location in NYC serving a total of over 2,300 stores
About FMS: FMS Solutions (http://www.FMSSolutions.com) is a 100% Employee-Owned (ESOP) company providing approximately 2,300 Independent Retailers with financial, accounting, and consulting services such as benchmarking, best practices, and mission-critical decision reports throughout North America.