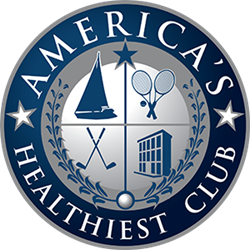 Access to healthy lifestyle choices provides all of us the opportunity and energy to achieve our goals and objectives.
San Juan Capistrano, CA (PRWEB) January 08, 2014
Prevo Health Solutions would like to congratulate the 2013 top ten recipients of its prestigious America's Healthiest Club award, in ascending order.
1. Broken Sound Club - Boca Raton, FL. John Crean General Manager
2. Ocean Reef Club - Key Largo, FL. Paul Astbury President
3. Woodfield Country Club - Boca Raton, FL. Eben Molloy General Manager
4. Bethesda Country Club – Bethesda, MD. Brad Cance General Manager
5. Desert Highlands Golf Club – Scottsdale, AZ. Terra Waldron General Manager
6. John's Island Club - Vero Beach, FL. Brian Kroh General Manager
7. Palo Alto Hills Golf & Country Club - Palo Alto, CA. Dirk Zander General Manager
8. The Vintage Club - Indian Wells, CA. Marc Ray General Manager
9. The Reserve Club - Indian Wells, CA. Craig Surdy General Manager
10. The Club at Mediterra– Naples, FL. Tom Wallace III General Manager
It was a close race with 41 points separating the first from the tenth place finisher—with only a four percent difference in scores.
"On behalf of the Board of Governors, members and staff of Broken Sound Club, it is an honor to receive the America's Healthiest Club award," said John Crean, General Manager and Chief Operating of Broken Sound Club. "Access to healthy lifestyle choices provides all of us the opportunity and energy to achieve our goals and objectives. This designation truly exemplifies the commitment of our community."
To achieve the America's Healthiest Club distinction, each club participated in a detailed on-site evaluation executed by Prevo Health Solutions. The clubs were evaluated across five equally rated categories: fitness, nutrition, staff, members and facilities. Each category is comprised of multiple questions with certain responses valued/weighed as more important. A health score of 800-plus qualifies a club as one of America's Healthiest Club, a distinguished third party validation and recognition for achieving a healthy environment. Each club also received a detailed written evaluation and best-practices in the form of a Health Report™ that serves as a playbook for current and future wellness strategies.
With this particular top ten group, there were some key similarities that helped them achieve the America's Healthiest Club honor. The similarities were: executive leadership and commitment to wellness, health conscious chef with a farm-to-table mentality, human resources commitment to the health & well-being of the employees, full service fitness & wellness centers with certified staff, and a very active membership stemming from a wide variety of activities, challenges and programs.
Some other notable statistics:

Only three percent of general managers interviewed had a defined wellness strategy.
Ninety-eight percent of clubs interviewed have a manned fitness center.
Eighty-two percent of chefs interviewed have implemented a farm-to-table program for the members.
One hundred percent of human resource managers have access to health risk assessments, but only 12 percent have implemented the tool.
Among reasons for point deduction among clubs were: no strategic wellness plan, lack of understanding of the populations (member or staff) wants or needs, little to no employee wellness education, limited use of technology to manage wellness programs, and employee "meal plans" include too many unhealthy options.
For clubs looking to improve their Health Score™ , Prevo has some key recommendations:

Create a wellness committee or task-force comprised of key department heads.
Establish goals and objectives and keep staff accountable.
Incorporate web and smart phone apps to help engage members and staff.
Improve employee meals and add nutritional information.
Incentivize employees to participate in wellness challenges and educational programs.
The America's Healthiest Club honor has been well earned by these fine clubs, and for many of the general managers it is a welcome recognition of the culture of wellness they have strived to achieve.
"I'm pleased to say that wellness is becoming a way of life for many and private country clubs need to provide those lifestyle options to their members as well as their staff," said Tom Wallace III, CCM, EMC and general manager of the Club at Mediterra. "We all want to increase the quantity and quality of our years, especially as we grow older. For Mediterra, wellness and hospitality are intertwined. What better way to express caring for your guests and the team for which you are responsible than to be committed to their physical and mental well-being."
"Private Clubs that have embraced wellness as a strategy have seen an increase in member usage, revenues and have become more relevant with the members. While at the same time, wellness has been an effective strategy to lower employee health insurance costs, improve productivity and reduce absenteeism," said Rick Ladendorf, President of Prevo Health Solutions. Our mission is to share what we have learned with other private clubs and to improve the overall health and well-being of club members and the workforce."
About PREVO HEALTH SOLUTIONS:
Prevo Health Solutions, Inc. is the club industry's premier wellness experts with expertise in workplace wellness and member retention. Our mission is to improve the overall health of the private club industry through education and sharing of best practices. Our team consists of health professionals, certified nutrition & fitness experts, workplace wellness gurus and engagement specialists. We know what works in the workplace and we know the club industry. Prevo Health Solutions works with employers of all sizes to develop and execute custom wellness strategies which maximize engagement and participation. For more information visit http://www.prevohealth.com.
# # #