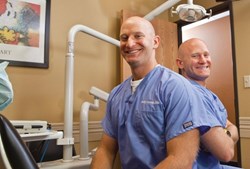 Austin, Texas (PRWEB) January 09, 2014
On Saturday, January 18, Family Tree Dental Group opens the doors of its Round Rock office for a free day of preventative dental care for all ages. The dentists and staff will provide a number of services at no-charge, including: exams, x-rays, cleanings, oral cancer screenings, diabetes checks, sealants, fillings, tooth extractions and stainless steel crowns. Several national dental product and service companies will be donating supplies and assistance to help make the event successful, including: Henry Schein Dental Co., BIOMET 3i, Authentic Dental Lab and Premier Dental Products Co.
The goal is to serve as many people as possible who otherwise could not afford dental care. Residents of Round Rock, Austin and surrounding communities are all welcome. Anyone can participate—there are no age, monetary or insurance requirements. Doors open at 8:00am. All patients will be seen on a first-come first-served basis, and services provided will be problem-focused. Family Tree Dental Group encourages those interested to arrive early to ensure a place on the schedule.
"We've loved being a part of this community for the last two years," said Dr. Chad Denman, Austin dentist / Round Rock dentist and Family Tree Dental Group co-owner. "We participate in outreach programs throughout the year, but we were looking for a way to directly give back to our community. Since far too many people are unable to afford dental care, this is the perfect way to help those in need.
"Because dental care affects the entire body and many warning signs for bodily healthcare issues first manifest themselves in the mouth, it is essential that people see their dentist on a regular basis. We take a complete health dentistry approach when it comes to oral health, so whether a patient comes for our community day or stops by our office for a regular appointment, they will receive the best care possible."
The event is open to members of the media. Family Tree Dental Group's Round Rock office is located at 200 N. Red Bud Lane. Doors open at 8 am on Saturday.
Family Tree Dental Group was founded in 2011 by Austin dentists - Round Rock dentists and identical twin brothers Drs. Chad and Shelby Denman to provide high quality dental care in a state-of-the-art environment with careful attention to detail and deep personal respect. Family Tree Dental Group helps maintain the oral health of patients of all ages and cares for all dental needs under one roof. For more information, call (512) 458-5999 in Austin, (512) 310-3999 in Round Rock, or visit http://www.FamilyTreeDentalGroup.com.