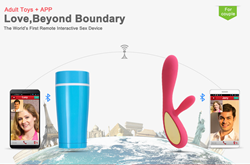 (PRWEB) January 08, 2014
In December 2013, a UK company EFEELINK launched a set of adult toys that can help separated lovers experience remote sex. The products have received a great response in the global market. Recently, the company has announced that it will attend the AVN Adult Expo 2014 in Las Vegas.
"We will show our new products at the AVN Adult Expo 2014, and we believe that they should be a surprise for the customers worldwide," said, the CEO of EFEELINK.
According to the sales department of EFEELINK, their products sell very well in the global market.
"Since the beginning of December 2013, we have prepared 10000 sets of products for the global market, and it's only 50 sets left now", Mark, a sales person from EFEELINK states, "Even in the relatively conservative country like China, the products are also very popular and in hot sale."
It is known that EFEELINK products are divided into two parts: one is for men, the other is for women. Holding the appropriate internet enabled sex toys, two lovers can remote control each other. And with real-time HD video, they can enjoy the intimate time face to face. They can have a strong sense of reality through the real-time HD video as well. In the process of usage, the man just needs to increase the action; the woman, separated by thousands of miles, can feel a strong tremor. With the interactive effect, it can help long distance lovers make love easily.
Mark said: "EFEELINK products can also be used by both couples and singles for remote sex. When connected to the app "Kfeel", EFEELINK products can work in accordance with music rhythms, so that the users can synchronize with the audio fantasy, which will bring orgasm for users."
About EFEELINK
EFEELINK, a UK company, is devoted to designing and creating innovative adult products based on modern science and technology. The company wants to help its clients worldwide find the right high-quality products to meet their individual desires. Visit http://www.efeelink.com/ for more details.
Follow EFEELINK at:
Facebook: http://www.facebook.com/efeelink
Twitter: http://twitter.com/efeelink