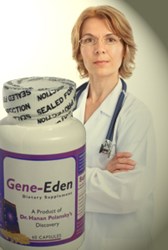 We recommend that individuals with hepatitis C take Gene-Eden-VIR. This natural antiviral was clinically proven to reduce symptoms of an HCV infection in a study that followed FDA guidelines. - Mike Evans, polyDNA
Rochester, NY (PRWEB) January 15, 2014
Hepatitis C and diabetes are linked. Hepatitis C greatly increases the risk of developing type 2 diabetes, and diabetes worsens the prognosis of hepatitis C. This is according to the Hepatitis C Trust's website (2). However, a study showed that patients with both hepatitis C and diabetes "may have their cardiovascular and kidney outcomes improved with antiviral therapy." This is according to an article published on December 13, 2013 on MedicalNewsToday.com (3).
polyDNA recommends that diabetes and hepatitis C patients consider taking Gene-Eden-VIR. This natural product was clinically proven to reduce symptoms of an HCV infection in a study that followed FDA guidelines.
The study published in the journal Hepatology found that "Patients with both diabetes and HCV who were untreated had incidence rates for kidney disease, stroke and heart attack of 9.3%, 5.3% and 6.6% respectively (3)." In contrast, patients with both HCV and diabetes who received antiviral therapy had a "1.1% incidence rate of end-stage kidney disease, a stroke incidence rate of 3.1% and a heart attack incidence rate of 4.1% (3)." In simple terms, the antiviral therapy cut the risk of developing kidney disease, stroke, or heart attack by about half.
Lead study author Dr. Chun-Ying Wu said, "Our findings suggest that HCV may cause clinical complications related to diabetes. But these issues are mitigated by HCV antiviral therapy…." Dr. Wu is a physician at the Taichung Veterans General Hospital (3).
"We recommend that individuals with hepatitis C take Gene-Eden-VIR. This natural antiviral was clinically proven to reduce symptoms of an HCV infection in a study that followed FDA guidelines," Mike Evans, polyDNA
A study published on August 12, 2013 in the peer reviewed, medical journal Pharmacology & Pharmacy, in a special edition on Advances in Antiviral Drugs, showed that Gene-Eden-VIR reduced HCV symptoms (4).
Study authors wrote that, "Individuals infected with the hepatitis C virus…reported a safe decrease in their symptoms following treatment with Gene-Eden-VIR (4)." The study authors also wrote that, "We observed a statistically significant decrease in the severity, duration, and frequency of symptoms (4)."
To learn more about Gene-Eden-VIR, and HCV visit http://gene-eden-kill-virus.com/HCV.php. All orders of Gene-Eden-VIR are completely confidential, and no information is shared or sold to any third party. Privacy is assured.
References:
(1) Antiviral treatment for hepatitis C virus infection is associated with improved renal and cardiovascular outcomes in diabetic patients. Published on October 12, 2013.
http://www.ncbi.nlm.nih.gov/pubmed/24122848
(2) The Hepatitis C Trust - Hepatitis C and Diabetes: A Deadly Combination.
http://www.hepctrust.org.uk/News_Resources/news/2010/June/Hepatitis+C+and+Diabetes+A+Deadly+Combination
(3) Patients with HCV and diabetes may benefit from antiviral therapy. Published on December 13, 2013.
http://www.medicalnewstoday.com/articles/270094.php
(4) Gene-Eden-VIR Is Antiviral: Results of a Post Marketing Clinical Study. Published August 12, 2013.
http://gene-eden-kill-virus.com/PP_Gene-Eden-VIR-is-Antiviral.pdf
polyDNA is a biotechnology company that develops dietary supplements using the unique scientific method developed by Dr. Hanan Polansky, which is based on Computer Intuition.
In addition to his unique scientific method, Dr. Polansky published the highly acclaimed scientific discovery, called Microcompetition with Foreign DNA. The discovery explains how foreign DNA fragments, and specifically, DNA of latent viruses, cause most major diseases.
polyDNA developed Gene-Eden-VIR, an antiviral natural remedy that helps the immune system kill latent viruses.