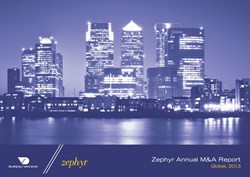 M&A activity in most regions increased in 2013, and globally value reached its highest level for a number of years
Manchester, 9th January 2014 (PRWEB UK) 9 January 2014
The value of global mergers and acquisitions (M&A) rose in 2013 to the highest level recorded since 2009, according to information collected by the leading M&A database Zephyr, published by Bureau van Dijk. The improvement came as M&A volume fell back to its lowest point since 2008.
In total there were 71,811 transactions worth a combined USD 3,450 billion in the year under review
Positive results in North America, Western Europe and Central and Eastern Europe contributed towards the overall improvement on 2012, though activity in these regions was counteracted somewhat by declines in Asia-Pacific and the Middle East.
The value of M&A with targets based in Western Europe during 2013 rose 12 per cent year-on-year to USD 908,790 million from USD 811,612 million in 2012, while investment in North America increased 27 per cent to reach USD 1,302 billion, in spite of volume decreasing significantly over the 12 months. M&A targeting Central and Eastern European countries improved the most out of all the regions under review as value more than doubled year-on-year to the highest recorded since 2007.
Indeed, of all regions examined in the period under review, only Asia-Pacific and the Middle East registered declines in value, with the latter reaching its lowest level of the last six years and halving from 2012. Asia-Pacific's result represents its fourth consecutive year of decline.
Lisa Wright, Zephyr director, commented, "M&A activity in most regions increased in 2013, and globally value reached its highest level for a number of years. Interestingly, the increase in value comes at the same time as volume reached its lowest level since 2008, suggesting considerations are increasing and investors are starting to regain confidence."
Meanwhile, the Zephyr database shows global private equity and venture capital investment more or less mirrored the trend seen in M&A deals, as value increased 15 per cent on 2012 while volume slid from 8,831 deals to 8,593. The rise in global private equity value represents the fourth consecutive year of growth. The Zephyr database shows that while the overall volume of global private equity and venture capital deals declined over the 12 months, the result was the second highest recorded since 2008 (2012: 72,523).
Ends
For further information, please contact:
Zephyr Editorial
+44 (0)161 838 9554
zephyreditorial(at)bvdinfo(dot)com
Notes to Editors:
The date range is 01/01/2013 – 31/12/2013 inclusive
Activity is based on the activity of the target company
Deal status is announced, completed, pending or unconditional
The sector breakdown uses targets' activities as defined to be 'Major Sectors' by Zephyr
The Western Europe region covers target companies in Andorra, Austria, Belgium, Cyprus, Denmark, Finland, France, Germany, Gibraltar, Greece, Iceland, Ireland, Italy, Liechtenstein, Luxembourg, Malta, Monaco, Netherlands, Norway, Portugal, San Marino, Spain, Sweden, Switzerland, Turkey and the United Kingdom
About Zephyr
Zephyr is an information solution containing M&A, IPO and venture capital deals and rumours with links to detailed financial company information. Zephyr covers various deal types including M&A activity, IPOs, joint ventures and private equity deals. It's published by Bureau van Dijk (BvD). The deals on Zephyr are linked to the company financials and peer reports on BvD's product range, which includes Orbis, Amadeus and Fame, for company valuation and benchmarking.
Zephyr contains information on over 1 million deals. Approximately 75,000 deals are added each year depending on levels of deal activity. Zephyr has no minimum deal value. All deal information is translated into English. Zephyr's UK-based researchers speak 30 languages and use native language and English sources in their deal enquiries. http://www.zephyrdealdata.com
About Bureau van Dijk
Bureau van Dijk (BvD) is one of the world's leading publishers of electronic business and company information. The company has over 30 offices worldwide. BvD is best known for its range of international company information products that combines multiple high-quality data sources with flexible software to allow users to manipulate data for research, marketing intelligence and analysis. Products include Fame, Orbis, Amadeus, Bankscope, Isis and Osiris. BvD also publishes the global M&A database, Zephyr. http://www.bvdinfo.com