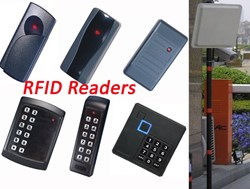 We love everything about SWAccessControl. Perfect for many people on a budget.
(PRWEB) January 08, 2014
Recently, SWAccessControl.com, a well-known door access control system manufacturer and wholesaler from China, has announced its new RFID reader collection. These high quality RFID readers are specially designed for the global market.
The collection of RFID Readers from SWAccessControl.com include 42 various models, like 125KHz Proximity card reader with keypad, PIN keyboard reader, 2.4G active RFID reader and more. They are specially designed and developed for the global customers who have very high quality requirements.
Based on a senior engineer of SWAccessControl.com, RFID (Radio-frequency identification) is the wireless non-contact use of radio-frequency electromagnetic fields to transfer data, and RFID readers are widely used for the purposes of automatically identifying and tracking tags attached to objects. RFID tags have been used in many industries as well.
"All the customers worldwide can enjoy our greatly discounted prices now, and the discounts are up to 19% off. If you are looking for high quality RFID readers at affordable prices, please contact us for a special offer before Jan. 20, 2014." The CEO of SWAccessControl.com states.
Moreover, SWAccessControl.com has recently announced its marketing strategy of rfid readers for 2014. The company will invest more money on its RFID products this year, and provide more reliable RFID readers, RFID reader modules, RFID tag readers, RFID UHF readers and more for its global customers.
About SWAccessControl.com
SWAccessControl.com is a leading access control system manufacturer and supplier from Shenzhen, China. The company aims to provide the best quality products at reasonable prices for its clients around the world. Its products include fingerprint access control systems, RFID access control systems, proximity card readers, magnetic locks, electric bolts, access control power supplies and more. For more details of the company and its products, please visit: http://www.swaccesscontrol.com