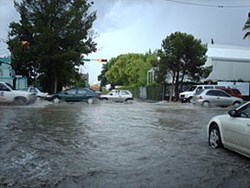 Motorists need to be aware of the hazards and how to deal with them safely.
(PRWEB UK) 14 January 2014
With the recent storms over Christmas and news that there is more wind and rain on the way Lancaster Insurance, a classic car insurance intermediary, thought it is important to highlight some of the issues to keep drivers safe on the nation's roads.
What are the main dangers for road users during extreme weather conditions such as flooding? Water being deeper than expected, unseen potholes and fast moving water are all concerns for motorists as well as other road users as visibility can be limited.
Before approaching the flood water consider if there is an alternative route than can be taken and try to estimate how deep the water is. If it looks too deep, it probably is. Also paying attention to what other road users are doing - are they turning back? Remember even most standard 4x4s are not equipped enough to deal with flooding, so don't brave it unless you have to.
"Roads up and down the country are flooded and motorists need to be aware of the hazards and how to deal with them safely," explains Mike Edgeley Managing Director for Lancaster. "This is why we want to offer some basic advice to UK motorists."
A tricky thing to get right is how fast motorists should go. It isn't just a case of not driving too fast as driving too slow can allow water to seep into the engine, causing the engine to stop and or cause severe damage. Whilst driving too fast can cause the water to create a bow wave, the main tip would be that the water level should not go above the car grill.
Whenever possible opt to use the middle of the road. If there is a lot of traffic it is worth waiting, as the rounds are curved to allow water to run off making the middle of the road the shallowest part.
Once safely across the flood water don't forget to test the brakes to check they are dry.
If in the eventuality the car stops, drivers should not attempt to restart their cars or look in the bonnet, potentially starting the engine could cause further damage. Make sure the car is locked and get to a safe place as quickly as possible, having a breakdown policy should help in getting the vehicle recovered.
Most importantly do not go out unless you have to!