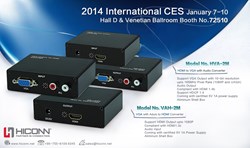 (PRWEB) January 09, 2014
Hiconn Electronics, the world-leading supplier of various kinds of high end electronics products, is now attending the 2014 International CES in the United States. Its workers are showcasing over 30 latest items at the big exhibition.
According to the CEO of the company, the 2014 International CES is owned and produced by the CEA (Consumer Electronics Association). It opened yesterday with a record breaking attendance of over 3,000 exhibitors across the largest show floor in history. More than twenty exhibitors then revealed new products during CES Press Day on Monday. The show will run through Friday, January 10.
"We are very proud to attend the International CES. It is the world's gathering place for all people who thrive on the business of consumer technologies and features the largest showcase of innovation in the world. I couldn't be more excited to see the show open. At the significant exhibition, hundreds of industries come together to survey and transact; that makes the magic, wonder and energy of consumer technology come to life. I am sure we will have a fruitful trip," the CEO says.
Hiconn Electronics is one of the most preferred companies in the global market. It often announces premium quality products at amazingly affordable prices. To stay competitive, the innovation-based company continually adopts new technologies from developed countries.
About Hiconn Electronics
Hiconn Electronics (Shenzhen Hiconn Electronics Co. Ltd.) is devoted to designing and manufacturing a wide range of connection cables and customized cable assemblies, offering many HDMI cables, VGA cables, SATA cables, USB cables, 1394 cables, DVI cables, SCSI (Small Computer System Interface) and more. For more information, please visit http://www.hiconn.net/.
Contact Person: James Yin (Sales Director)
Company Name: Shenzhen Hiconn Electronics Co., Ltd.
Address: Shenghua Building., Xixiang Road., Baoan District, Shenzhen, Guangdong Province, China
Zip Code: 518102
Tel: +86-755-8109 8345
Fax:+86-755-2779 3497