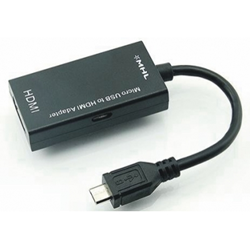 (PRWEB) January 10, 2014
Recently, Hiconn Electronics, an industry pioneer in HDMI products, has announced its latest collection of MHL to HDMI Adapters with RCP. Now, the company is celebrating this New Year by launching a special offer on all its brand new items.
With the development of technology across the world, the demand for high end high end devices is increasingly huge. Hiconn Electronics is a distinguished manufacturer of top quality devices (including MHL to VGA Adapters, OTG Cables, USB HUB & Card Readers for OTG Mobile Phone, MHL to HDMI Adapters and so on). What's more, the company's one stop online shop provides worldwide clients with a truly convenient and interactive purchasing experience.
According to the CEO of the company, its MHL to HDMI Adapters with RCP are specially designed for the international market. Here are some details about these practical products:
--Model No.: MHL-E1
--Approvals: CE-FCC-RoHs2-REACH
--Packing Info.: 20PCs/CTN
--Payment Terms: L/C-T/T-Western Union-Paypal
--Minimum Order Quantity: 50PCs
--Target Markets: Africa-Asia-Eastern Europe-Northern Europe-Latin America-North America-Oceania-Western & Southern Europe
--Small adapter for your mobile phone video/picture output to HDTVs/monitors /projectors.
--Compliant with HDMI 1.4b and MHL 2.0 specifications.
--Supports the resolution up to 720p 60 Hz, 1080p 30 Hz or 1080p 60Hz in --Packed Pixel Mode.
--Plug and Play
--Need additional 5V/500MA(or more current) Power input
--TV remote for wireless control of mobile phone (Need to have a CEC-enabled TV)
The CEO also says that a lot of the company's adapters have been ordered by customers from around the world. In addition, its international quality standard can ensure that each of its products is of premium quality.
About Hiconn Electronics
Hiconn Electronics (Shenzhen Hiconn Electronics Co. Ltd.) is devoted to designing and manufacturing a wide range of connection cables and customized cable assemblies, offering many HDMI cables, VGA cables, SATA cables, USB cables, 1394 cables, DVI cables, SCSI (Small Computer System Interface) and more. For more information, please visit http://www.hiconn.net/.
Contact Person: James Yin (Sales Director)
Company Name: Shenzhen Hiconn Electronics Co., Ltd.
Address: Shenghua Building., Xixiang Road., Baoan District, Shenzhen, Guangdong Province, China
Zip Code: 518102
Tel: +86-755-8109 8345
Fax:+86-755-2779 3497