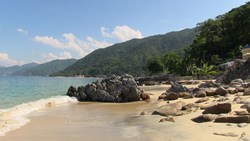 the leading travel agency in Puerto Vallarta's most sought-after spots
Puerto Vallarta, Jalisco (PRWEB) January 09, 2014
Villa Experience Mexico is glad to announce the incorporation of this stunning beachfront villa in Playa Las Animas a few minutes south of Puerto Vallarta. Besides having its own private beach without neighbors, Casa Playasola is the only Puerto Vallarta vacation rental rising at the south end of the pristine and uninhabited Playa Las Animas, where neither neighbors nor public disturb guests. Casa Playasola is only accessible by boat from Mismaloya or Boca de Tomatlan, and it is the closest match to a vacation on your own private tropical island. The unique features of Casa Playasola include its secluded sandy beach and a sports complex that will delight the most active travelers with a fully equipped gym, a lighted tennis court, a basketball court and a sandy volleyball court.
Casa Playasola offers five well appointed bedrooms and nine bathrooms in over 9.000 sq. ft. of living spaces. Outdoor features include cantera terraces, a massive beachfront palapa with kitchen and bar which is the ideal scenario for al fresco dinners, cooked and served by the house staff. The main deck offers a stunning infinity pool and is perfect for impromptu cocktail parties. To top this off, Puerto Vallarta's thriving social scene with its plethora of restaurants, beach boutiques, art galleries and night clubs is minutes away from this secluded paradise. Casa Playasola grants its guests the best of all worlds: the seclusion and intimacy that are ideal for a rejuvenating getaway on one hand; the cosmopolitan hedonism of this tourist Mexican town on the other. From December to March, the Pacific Ocean is home to hundreds of humpback whales and their newborns that can be spotted playing in the distance from this villa´s secluded beach.
Villa Experience Mexico affirms its position as the leading travel agency in Puerto Vallarta's most sought-after spots. Following the recent incorporation of Villa Bahia to the vacation rental market, Casa Playasola is a natural progression for the VEM travel entrepreneurs, whose goal is to be at the forefront of the luxury travel industry in Mexico. For more information about Casa Playasola  and other Puerto Vallarta vacation rentals, please contact Oliver Weickardt, CEO and Founder of Villa Experience Mexico, visit VEM's brand new Web site or schedule a showing on a property directly with the Sales Director Mrs. Rocio Mendoza at the destination.