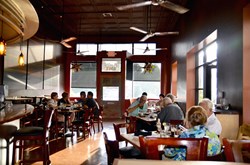 San Antonio, TX (PRWEB) January 08, 2014
Leading commercial furniture distributor, Restaurant Furniture.net recently teamed up with trendy Beat Street Coffee Co. & Bistro to launch successful grand opening.
A business that started out as a food truck has turned into a popular trendy coffee house and bistro. Located just in the upscale Monte Vista neighborhood of San Antonio, Beat Street Coffee Co. and Bistro is several separate places fused into one location: coffee house in the morning, soup and sandwich shop at lunch and bistro in the evening, not to mention a late-evening place to gather.
They are open for breakfast, lunch and dinner. The chef has prepared a bistro menu filled with dishes that have a European foundation with an American sensibility. Currently, the selection displays largely a Spanish/Mediterranean touch. Their menu also includes a wine list and a selection of draft and craft beers in addition to pastries, coffee and dessert.
The decor makes the room feel welcoming: there are seats at the windows and tables and chairs throughout the rest of the restaurant. The setup includes a small library for some leisure reading. There is a lovely patio area with more seating. The interior has a very atrium-like feel, which adds to the already relaxing ambiance. There is also a patio with comfortable seating and couches. Beat Street occasionally has live music in the evenings.
For seating, the owner decided to go with classic, modern, yet elegant Duna Restaurant Chair and matching bar stools and matching Backless Wood bar stools in dark mahogany finish with black vinyl seats. The Duna Chairs and Bar Stools are made in the USA of solid wood certified by the FSC (Forest Stewardship Council). The wood bar stools and chairs are available in 5 standard finishes: mahogany, walnut, natural, cherry and dark mahogany.
"The Duna Restaurant Chairs and matching bar stools were just what the owner wanted to complete the contemporary look he was going for," said David M., salesperson for Restaurant Furniture.net. The Duna Restaurant Chair sells for $70 and the bar stools sell for just $85. Restaurant Furniture.net also makes custom finishes for an additional charge. The vinyl padded seats, which are made in the U.S.A. are available in vinyl or fabric in a wide selection of colors and patterns and can also be custom made out of any material to the customer's specifications. Solid wood seats are also available and a custom finish can be made for an additional charge.
Browse Restaurant Furniture.net's full selection of commercial grade chairs, bar stools, table tops, table bases, booths and patio furniture at http://www.restaurantfurniture.net or talk to a customer service representative at (888) 409-1115.
Beat Street Coffee Co. & Bistro is located at 2512 N. Main St. in San Antonio, TX. They can be contacted at (210) 320-2099.