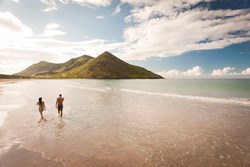 Significant numbers of Russian investors have purchased the luxury real estate at Kittitian Hill with a substantial increase in sales at the resort during the latter part of 2013.
London, UK (PRWEB UK) 9 January 2014
Perched on the edge of a mountain, the 400-acre, sustainable resort development Kittitian Hill features luxury villas, charming cottages and a hotel designed by the world-famous architect, Bill Bensley using local and sustainable resources. Every property offers panoramic views of St. Eustatius, Saba, St. Martin and St. Barths, along with spectacular sunsets and dramatic views of the Caribbean Sea.
Significant numbers of Russian investors have purchased the luxury real estate at Kittitian Hill, with a substantial increase in sales at the resort during the latter part of 2013. With excitement growing as the resort is due to open in March 2014, Select Resorts Properties in association with Savills are expecting this trend to continue throughout the year.
Residents and guests will benefit from a range of fantastic amenities including an 18-hole championship golf-course, designed by Ian Woosnam, a luxurious destination spa and the Kittitian Village – with an excellent selection of dining and entertainment options, including bars, restaurants, duty-free shops, a cinema (they even provide the popcorn), a library and amphitheatre.
Easily accessible from many of the world's major cities, and with only a short intra-island flight from other major Caribbean islands, the island of St. Kitts has much to offer, including a pleasant year-round climate, a laidback lifestyle, stunning scenery and breath-taking beaches.
If owning a piece of island paradise isn't enough to draw in buyers, there's also plenty of financial incentive to purchase real estate at Kittitian Hill, including guaranteed rental income and no taxes on rental income, capital gains, inheritance and repatriation of funds.
Furthermore, Kittitian Hill offers residents participation in the St. Kitts Citizenship by Investment program. Established in 1984 the program is the oldest of its kind in the world. Eligible investors may apply for citizenship and a passport, allowing the applicant and their family to enjoy visa-free travel to more than 100 countries including Canada, the UK, Switzerland and all EU-Schengen countries.
With several major developments due for completion in the coming years, the island's profile and demand for holiday property is only going to increase therefore high capital appreciation is also predicted.
Villas and cottages are now available to purchase from Select Resorts Properties in association with Savills. Fractional, lifestyle and investment options are all available with prices ranging from US$425,000 to US$4 million.
ENDS
Notes to Editors:
About Savills
Savills plc is a global real estate services provider listed on the London Stock Exchange. Savills has an international network of more than 500 offices in 45 countries and associates throughout the Americas, the UK, Europe, Asia Pacific, Africa and the Middle East, offering a broad range of specialist advisory, management and transactional services to clients all over the world. http://www.savills.co.uk.
About Select Resorts Properties
Select Resorts Properties have been established in selling luxury property and land around the world for over 30 years. The firm is the only UK based associate of Savills, and a member of the AIPP (Association of International Property Professionals). The firm offer in-depth knowledge and experience to meet the needs of overseas real-estate investor. Buyers can invest, safe in the knowledge that full and thorough due diligence has been offered on all projects.
http://www.selectresortsproperties.com
About St. Kitts
St. Kitts is located in the northern part of the Leeward Islands in the Caribbean; encompassing a total area of 261 sq. km. The population of St. Kitts is approximately 35,000, where English is the official language.
St. Kitts has a wonderful tropical climate, the cooling trade winds make it comfortable and enjoyable throughout the year. The average temperature is around 25-33°C with low humidity and an average annual rainfall of 140 cm (55 inches), which keeps the vegetation lush and green.
Most local businesses accept US currency, but will give back change in EC$. The banks on the island have ATM machines and funds are dispensed in EC$. The hotels, restaurants and larger stores accept credit cards. VISA and MasterCard are widely accepted.
When visiting the islands, a valid passport or birth certificate is required to enter.
The official tourist website of St. Kitts: http://www.stkittstourism.kn/