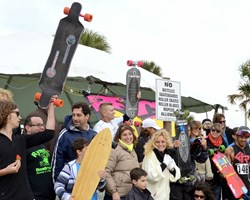 Flagler Beach, FL (PRWEB) January 09, 2014
The City of Flagler Beach is now home to the fastest mile pushed on a skateboard. Kaspar Heinrici can be known as the first man to break three minutes in a one mile skate. The city hosted a half marathon, beginner's race and the One-mile World Record Challenge on a chilly day on January 4th.
The day started with the half marathon at 8 AM and some of the IDSA's favorites including Robin McGuirk, Kaspar Heinrici, Rick Schorr, Steve Starke, Andy Andras, Will Frank, Will Fogel, Sidra Boyer and Jesse Howley. After a couple of laps around the gorgeous streets and trails of Flagler, Kaspar won with a time of 57:17.27. He was able to edge out Robin McGuirk and Will Frank in what was a hotly contested race. Sidra Boyer also earned a double win on the Women's side and set a Female World Record in the Mile as well.
What transpired shocked and awed everyone in attendance, the previous record was held by Steven Sanchez from the Blue Sky Mile at 3:35, (please note a looped course in heavy rain) but Kaspar Heinrici eclipsed it with a time of 2:54.90. Perfect conditions led to a perfect race and Sidra Boyer took advantage, as well, breaking the previous women's record with a time of 3:30.68.
The City of Flagler Beach will be a sought after location for Skateboarders around the world to visit and attempt a Record for many years to come. Kaspar, now nicknamed the "Fastest Ghost" will defend his crown in Cabarrus County, NC on February 1st next month at the 1st Annual Charlotte Skate Rally. Registration is now available at: http://theidsa.org/charlotte-race/.
About IDSA
The IDSA's mission is to act as the global governing body to ensure the safety of event competitors by ensuring that route inspection, age grouping and event insurance needs are met; to grow international awareness and participation by demonstrating skateboarding's benefits toward a healthy and positive lifestyle; and to ultimately infuse new energy into skateboarding as a viable and legal mode of transportation. The IDSA can be visited at http://www.theidsa.org.