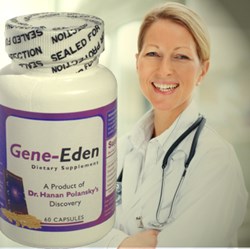 Since EBV is directly linked to the development of periodontitis, we recommend a natural antiviral remedy to help the immune system target the latent Epstein Barr Virus. – Mike Evans, polyDNA
Rochester, NY (PRWEB) January 16, 2014
The Epstein Barr Virus (EBV) is linked to a severe form of gum disease called periodontitis. This disease destroys the soft tissue and bone that support the teeth. Periodontitis can cause tooth loss, or worse, an increased risk of heart attack or stroke and other serious health problems. This is according to the Mayo Clinic website in a page last updated on November 23, 2010 (2). polyDNA recommends Gene-Eden-VIR against the latent EBV. This natural product was clinically proven to reduce symptoms of an Epstein Barr Virus infection in a study that followed FDA guidelines.
Research has shown a link between high numbers of Epstein Barr Virus in the body, and the severity of periodontitis. As study authors wrote "the amount of EBV DNA detected in PPs (periodontal pocket) correlates with disease severity (1)." Moreover, "the level of EBV infection correlates with CP (chronic periodontitis) development and promotes cell damage that may increase local inflammatory conditions (1)."
Importantly, scientists discovered EBV in both diseased and healthy gums (1). However, the levels of EBV in diseased tissues was much higher.
Warning signs of periodontal disease include "Bad breath or bad taste that won't go away, red or swollen gums, tender or bleeding gums, painful chewing, loose teeth, sensitive teeth, gums that have pulled away from your teeth, any change in the way your teeth fit together when you bite, (and) any change in the fit of partial dentures." This is according to the CDC in a page last updated on July 10, 2013 (3).
"A recent CDC report (3), found that around 47% of adults 30 years old or older had some form of periodontal disease. Since EBV is directly linked to the development of periodontitis, we recommend a natural antiviral remedy to help the immune system target the latent Epstein Barr Virus." – Mike Evans, polyDNA
A study published on August 12, 2013 in the peer reviewed, medical journal Pharmacology & Pharmacy, in a special edition on Advances in Antiviral Drugs, showed that Gene-Eden-VIR reduced EBV symptoms. Study authors wrote that, "Individuals infected with the Epstein Barr Virus…reported a safe decrease in their symptoms following treatment with Gene-Eden-VIR (4)." The study authors also wrote that, "We observed a statistically significant decrease in the severity, duration, and frequency of symptoms (4)."
To learn more about Gene-Eden-VIR, and EBV, visit http://gene-eden-kill-virus.com/EBV.php. All orders of Gene-Eden-VIR are completely confidential, and no information is shared or sold to any third party. Privacy is assured.
References:
(1) EBV Infection Is Common in Gingival Epithelial Cells of the Periodontium and Worsens during Chronic Periodontitis. Published on December 19, 2013.
http://www.ncbi.nlm.nih.gov/pubmed/24367478
(2) Mayo Clinic – Periodontitis. Last updated November 23, 2010.
http://www.mayoclinic.org/diseases-conditions/periodontitis/basics/definition/CON-20021679
(3) CDC – Division of Oral Health – Periodontal Disease. Last Updated on July 10, 2013.
http://www.cdc.gov/OralHealth/periodontal_disease/
(4) Gene-Eden-VIR Is Antiviral: Results of a Post Marketing Clinical Study. Published on August 12, 2013.
http://gene-eden-kill-virus.com/PP_Gene-Eden-VIR-is-Antiviral.pdf
polyDNA is a biotechnology company that develops dietary supplements using the unique scientific method developed by Dr. Hanan Polansky, which is based on Computer Intuition.
In addition to his unique scientific method, Dr. Polansky published the highly acclaimed scientific discovery, called Microcompetition with Foreign DNA. The discovery explains how foreign DNA fragments, and specifically, DNA of latent viruses, cause most major diseases.
polyDNA developed Gene-Eden-VIR, an antiviral natural remedy that helps the immune system kill latent viruses.