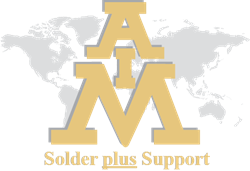 Cranston, Rhode Island (PRWEB) January 08, 2014
AIM Solder, a global leader in the manufacture of solder assembly materials for the electronics industry, is pleased to announce the appointment of Mr. Can Li to the position of Sales Manager. Effective 1 December, 2013, Li will be responsible for AIM's sales development in the eastern and northern regions of China and will be based in Suzhou, China.
Mr. Li has extensive experience having worked in the electronics industry for 10 years, after studying at Jiangxi University. Prior to working for AIM, Li held a sales position covering the eastern and northern regions of China for another large manufacturer of solder assembly materials. As the newest member of the sales team in China, Mr. Can Li will undoubtedly be a valuable addition to the AIM team.
About AIM
Headquartered in Montreal, Canada, AIM Solder is a leading global manufacturer of assembly materials for the electronics industry with manufacturing, distribution and support facilities located throughout the world. AIM produces advanced solder products such as solder paste, liquid flux, cored wire, bar solder, epoxies, lead-free and halogen-free solder products, preforms, and specialty alloys such as indium and gold for a broad range of industries. A recipient of many prestigious SMT industry awards, AIM is strongly committed to innovative research and development of product and process improvement as well as providing customers with superior technical support, service and training. For more information about AIM, visit http://www.aimsolder.com.
Upcoming Events:
March 23-27, 2014 – IPC APEX, Booth No. 1217 – Las Vegas, NV
April 8-10, 2014 - SMTA SE Asia Tech Conference on Electronics Assembly – Penang, Malaysia
April 23-25, 2014 – NEPCON China / SMTA China East Conference 2013 – Shanghai China