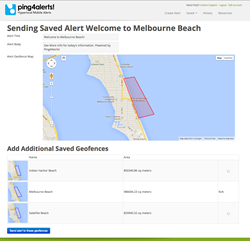 Nashua, NH (PRWEB) January 08, 2014
Ping4 Inc. announces partnership with the Florida Division of Emergency Management (FDEM) to test localized mobile alerting platform delivering emergency alerts to citizens and visitors in the Brevard County area.
"The Division's partnership with Ping4 Inc. on localized mobile alerts allows our emergency management team to test the system on providing alerts to the citizens and visitors to the Brevard County area," said FDEM director, Bryan Koon.
The ping4alerts! platform allows for custom alert polygons to be created and stored providing specifically targeted alerts. Ping4alerts! is a free iOS and Android app that uses the latest location-based technology to deliver a push notification to mobile devices within a geographically-defined area. Through a web-based application, FDEM pushes an emergency notification to the space inside the geo-fence.
Ping4 Inc. respects user anonymity and does not require users to provide any personally identifiable information such as a phone number, street address, or email address. Ping4alerts! delivers the targeted alerts over the Internet through GPS, cellular, and available Wi-Fi networks.
"Director Koon's progressive thinking was instrumental for the development of ping4alerts!'s coastal alert feature," said Jim Bender, CEO of Ping4 Inc. "FDEM now has the ability to immediately notify people, whether they are a citizen or visitor, about hazardous coastal conditions. This is an innovative first step in mitigating emergencies that are specific to beach communities."
Citizens and visitors are encouraged to download the ping4alerts! app by simply visiting the App Store or Google Play.
About Ping4 Inc.
Ping 4 Inc., is a Nashua, New Hampshire software company utilizing the latest in push technology to deliver real—time, location—based, multimedia alerts to any iOS or Android mobile device. Public safety agencies license the platform to keep citizens informed of extreme weather events and other fast—moving situations. Consumers are not required to give up any personally identifiable information. User identity is 100% protected. More information is available at http://www.ping4.com.
Contact: Kyla Natali, Public Relations Manager
Email: Kyla.Natali(at)ping4(dot)com
Phone: (603) 548-8533