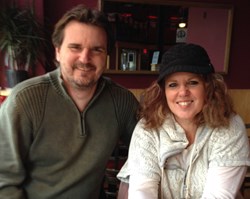 Hibbing, MN (PRWEB) January 09, 2014
Angie and Joe Wivoda have spent the last few years watching the Iron Range's younger generation move away from home – and seeing the strain that sort of distance can put on aging parents.
"We have seen first-hand the struggles families face with the changing needs of aging parents and, especially in our area, many of our seniors are left without immediate help here at home. This is what opened our eyes to the urgent needs of the senior population in our community," Angie said.
It's that experience that led the Wivodas to open Caring Transitions of Northeast Minnesota. The business, which just launched, specializes in organizing and managing senior moves, downsizing, liquidation of belongings and estate sales. Caring Transitions of Northeast Minnesota serves the Iron Range area including Hibbing, Virginia, Grand Rapids, Chisholm, Cloquet and Duluth.
"A change in circumstances can be stressful, whether it's moving a senior to a retirement community or simply downsizing to a smaller home, and families are often overwhelmed, especially if they live far apart. Caring Transitions makes this challenge easier for clients by acting as a family's local resource, saving them time, worry and money by coordinating all of the details. Caring Transitions can be used to sell just a few personal belongings or to liquidate an entire estate," Angie said.
Angie, Joe and their daughter 18-year-old Emilie will be working the business together. They're planning to hire others – especially family members – as needed. Even 8-year-old Abbie is helping out by getting marketing materials together and applying the stickers.
"It's truly our family helping other families get through a challenging time," Angie said.
Before starting her career as a Caring Transitions owner, Angie worked in interior design, floor coverings and kitchen and bath showrooms in the Twin Cities area and owned a custom floral shop. Joe, official co-owner of Caring Transitions of Northeast Minnesota, has been working in information technology since 1990 and has spent the last 20 years in the health care industry. In his spare time, Joe plays the bass guitar and upright bass in several area bands.
For more information about how the Caring Transitions team can serve you and for a free on-site consultation, call (218) 208-2578, email awivoda(at)caringtransitions(dot)net or visit http://www.estatemoveneminnesota.com.