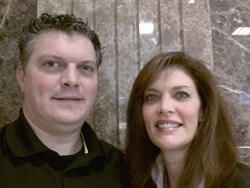 Altoona, PA (PRWEB) January 09, 2014
Jerry Moyer and Anita Smith are excited to announce the opening of their new family business, Fresh Coat Painters to serve Central Pennsylvania. This brother-sister duo are life-long residents of the area and value the concept of living local and buying local.
Fresh Coat Painters offers residential and commercial painting services including interior and exterior painting, wood staining and finishing, and other services for nearly every protective coating application. They use quality, environmentally safe materials and offer a 24/7 customer service center, online scheduling and detailed quotes. Fresh Coat Painters of Central PA serves Altoona, Johnstown, Bedford, State College and the surrounding communities.
"Jerry and I were both raised here, and community is a very important part of our lives. With our combined experience in real estate, business and home improvement, and education, we are looking forward to bringing the residents and business owners in our area top-quality painting services through Fresh Coat Painters of Central PA," Smith explained.
Part of the Fresh Coat commitment to satisfaction includes a 3-3-3 pledge, which means calls will be answered in three minutes, a quote will be delivered in three days (customer schedule permitting) and the job can be started within three weeks.
"Our goal is to provide quality service with a personalized touch. It is our commitment to bring client satisfaction in a timely manner, bringing with us the top-of-the line products of Sherwin Williams. Our team of expert painters are fully bonded and insured for your safety and peace of mind. By hiring Fresh Coat Painters, you can rest easy knowing you're trusting your home and your investment to a family-owned business that values quality, service and repeat business," Smith added.
Fresh Coat was founded in 2004 as part of Strategic Franchising Systems. In the last year, Fresh Coat has been included in the Bond's Top 100 and named to Entrepreneur Magazine's Franchise 500 list. Fresh Coat also is part of the International Franchise Association, the Small Business Association's Franchise Registry, VetFran and Minority Fran.
To learn more about what Fresh Coat Painter of Central PA can do for your home or business, call (814) 414-0555, email amoyer(at)freshcoatpainters(dot)com or visit http://www.freshcoataltoona.com.