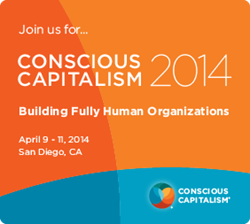 San Francisco, CA (PRWEB) January 09, 2014
Conscious Capitalism, Inc. co-Chairman and CEO Doug Rauch announced that Walter Robb, co-CEO of Whole Foods Market, and Ann Rhoades, founder of People Ink, former Chief People Officer of Southwest Airlines and JetBlue Airways, and author of Built on Values: Creating an Enviable Culture that Outperforms the Competition, will keynote at Conscious Capitalism 2014, April 9 – 11, 2014 at Paradise Point Resort in San Diego, California.
"We are delighted that Walter and Ann will be joining us at CC 2014 to share their deep experience building Conscious Cultures, at exemplary companies representing the best in Conscious Capitalism," Rauch commented. "The companies they helped to build demonstrate that caring for people and engaging their hearts and minds creates a strong, resilient and highly successful business that delivers great value to all of its stakeholders, including society in general."
Robb and Rhoades join Dov Seidman, acclaimed author of How: Why How We Do Anything Means Everything, and Raj Sisodia, co-Chairman of Conscious Capitalism, Inc. and co-author of best-selling Conscious Capitalism: Liberating the Heroic Spirit of Business, as the keynoters for CC 2014. The rest of the program for the forty-eight hour event will be comprised of more than forty 75-minute practicums, designed to deliver practical tools and best practices for applying the principles of Conscious Capitalism to everyday decisions.
CC 2014 is designed for CEOs and their executive teams, executives and entrepreneurs, as well as consultants and coaches who serve and support them, and anyone interested in Conscious Capitalism.
Keywords: Conscious Capitalism, CC 2014, Walter Robb, Ann Rhoades, Dov Seidman, Raj Sisodia, Doug Rauch
For more information about Conscious Capitalism 2014 visit the Conscious Capitalism web site or the event registration page.
###
About Conscious Capitalism
Conscious Capitalism is a movement dedicated to elevating humanity through business.
Conscious Capitalism, Inc. is a non-profit organization dedicated to cultivating the theory and practice of Conscious Capitalism through events, presentations, publications and social media. We also support an emerging network of Conscious Capitalism Chapters, which serve as communities of inquiry for business leaders, entrepreneurs, coaches and consultants and others.