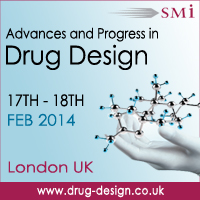 "SMi has a long tradition of organising Advances and Progress in Drug Design that is a high-level, well-organised event dedicated to actual challenges and potential solutions related to rational drug design." Hungarian Academy Of Sciences
London, UK (PRWEB UK) 8 January 2014
According to an article in Word Pharma News, (http://bit.ly/1aDi45H), Bayer announced that they were now accelerating the development of five promising drug candidates which are currently undergoing phase I and II clinical studies. The company plans to progress these five new highly innovative drug candidates in the areas of oncology, cardiology, and women's health into phase III clinical studies by 2015.
"Our research and development activities are strongly focused on areas where treatment options are not available today or where true breakthrough innovations are missing," said Prof. Andreas Busch, member of the Bayer HealthCare Executive Committee and Head of Global Drug Discovery at Bayer HealthCare.
The keynote titled: Aligning biochemical and biophysical assays for successful drug discovery, will explore accelerating assay development and expanding assay options for primary screening campaigns. The presentation will also discuss how to support better decisions through lead optimisation and look at increasing throughput of hit validation and characterisation process.
A snap shot of confirmed attendees include: Roche, Medlmmune, Astex Pharmaceuticals, Bayer, Pfizer, Novartis and Sanofi-Aventis.
Click here to see the conference agenda and full speaker line-up for 2014.
Advances and Progress in Drug Design
17-18 February 2014
Marriott Regents Park Hotel, London UK
http://www.drug-design.co.uk