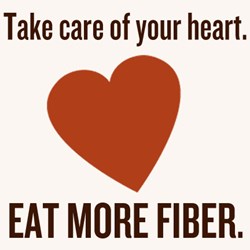 Eating the daily recommended value of fiber is an easy way to prevent heart disease - but almost no one does it.
New York, NY (PRWEB) February 12, 2014
The abundance of love in the air may be the best part of February. But a dead body can't feel love. Fortunately, fiber can help to extend life expectancy, giving love a chance at living longer.

In a 2011 NIH-AARP study published in the Archives of Internal Mediciane, of over 380,000 study participants, both men and women who ate diets high in fiber had a 22% overall lower risk of death compared to people with low-fiber diets.
Similarly, a 2004 cohort study published in the Archives of Internal Medicine found that high fiber intake was associated with a 27% decreased risk of dying from cardiovascular disease.
While a 2012 Mintel study showed that 87% of Americans know that fiber is an important part of a healthy eating plan, only 3% of men and 8% of women in the United States eat the recommended daily value of fiber.
Yet, fiber may just be the knight in shining armor that many people are waiting for. A high-fiber diet can protect from the dangers of cardiovascular disease, heart attacks, and strokes by:

Lowering cholesterol
Reducing blood pressure
Reducing cardiovascular inflammation
The Institute of Medicine sets the following recommendations for daily fiber intake:

Men < 50 years: 38 grams
Men 50+ years: 30 grams
Women <50 years: 25 grams
Women 50+ years: 21 grams
To get roughly 48% of the daily recommended value of fiber in one tasty snack, choose a FiberLove™ bar. FiberLove is the only fiber bar currently determined to be "heart healthy" by the FDA. Additionally:

Each FiberLove bar contains only 130-160 calories.
FiberLove bars are made with a proprietary, Non-GMO Project Verified, high-fiber blend containing 6 whole grains and seeds.
The bars come in eight delicious, heart-warming flavors ranging from Chocolate Brownie to Banana Walnut to Orange Cranberry and beyond.
People who aren't used to eating the daily recommended amount of fiber should increase fiber intake gradually while drinking plenty of water, to avoid digestive discomfort. Staying away from foods high in saturated fat or cholesterol are also important steps in preventing heart disease.
About FiberLove
FiberLove is a company of fiber experts and enthusiasts intent on redefining the fiber experience. FiberLove debuted in 2013 with a commitment to being THE feel-good fiber company.
Each flavorful FiberLove bar is made with a special, all-natural high-fiber blend that provides 12 grams of fiber in 130-160 calories. FiberLove bars are Non-GMO Project Verified, soy-free and kosher. FiberLove bars are available for purchase online through FiberLoveBar.com, as well as at Whole Foods, The Vitamin Shoppe, and local and regional grocers.