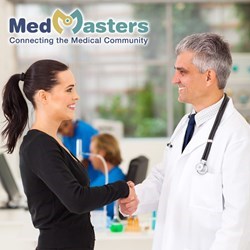 MedMasters combines the usefulness of professional networking social media applications with the added functionality of a traditional job board.
Ponte Vedra Beach, FL (PRWEB) January 14, 2014
MedMasters combines the usefulness of professional networking social media applications with the added functionality of a traditional job board.
MedMasters Creates a Unique Niche in the Health Care Industry
MedMasters™, an industry specific, online medical community, is unique in that it combines the power of social networking with its proprietary MedMatch search algorithm, which effectively matches talent with opportunities in the health care field.
MedMasters is an industry specific medical community that makes it easy for members to connect with each other, manage relationships, perform searches, share information and communicate privately or publicly within the medical community. The site, http://www.medmasters.com, is also ideal for active and passive job seekers as well as recruiters and hiring managers.
Founder and CEO Rick Fromme says MedMasters offers job seekers several advantages.
"For one thing, networking has become increasingly more important in landing a new job. We provide a social hub that facilitates and makes it easy for health care professionals to connect and meet new people. We also offer an environment where one can receive and post recommendations from professionals they know who can validate their past performance and future potential. These networking aspects coupled with the traditional functionality of applying directly for jobs, makes our tool very unique. Secondly, active and passive job seekers can now join an industry specific networking community where they can elect to display professional information such as their uploaded resume, salary requirements, and whether or not they are actively looking for a job. This job-related information can only be viewed by job advertisers such as recruiters and hiring managers and is kept confidential from their peers and other medical professionals." He also points out medical professionals can advertise themselves by setting up a "very specific" profile based on user type, job functions, specialties and the location where they live. Professionals can essentially add themselves to a professional directory based upon their skill sets and can be found by others based on what they do. "This comes in handy for job advertisers because our MedMatch feature will automatically identify professionals that match the job requirements of their job postings."
Fromme, a 15-year veteran of the medical device industry, says MedMasters combines the usefulness of professional networking applications with the added functionality of a traditional job board that allows medical professionals and recruiters to easily connect with each other. The idea was borne of seeing recruiters and employers having to rely on multiple tools and processes to source good candidates. The trouble, Fromme says, was not with the recruiters or candidates, but with the process by which candidates were matched with available opportunities.
"With MedMasters, we wanted to design a comprehensive tool where we bridged opportunities with people in the health care field, with the end goal of providing positive experiences for all types of members," Fromme explained. "By including social applications and other wide-ranging features, we feel the matching and hiring processes will be more beneficial for both recruiters and medical professionals".
Aside from MedMatch, other top features include the MedConnect portal where members build and manage their network, the Tagging feature, which serves as a virtual Rolodex™ to maintain contacts for easy recall, and the Shout-Out broadcasting system, which allows job advertisers the ability to broadcast messages to multiple members that have met their search criteria. Up next: a soon-to-be released product search directory that allows medical manufactures and representatives to list their product portfolios for easy sourcing from clinicians and providers in the medical community.
"Our premium packages feature additional useful tools," adds Fromme. The job seeker package allows members to upload a video profile, upload their references, display their professional awards and even take a personality assessment test and post it on their profile page. "MedMasters provides job seekers a better way to advertise themselves, so they don't have to rely solely on a static resume".
MedMasters serves a wide range of health care-related personnel such as medical sales representatives, hospital administrators, doctors, nurses, medical providers, clinicians, allied health care professionals, health care IT professionals, medical employers, distributors and recruiters.
MedMasters has quickly become the go-to online destination for top health care recruiters and medical professionals. Via the expanded membership model, MedMasters plays an integral role in helping health care and medical industry professionals meet individual and professional goals. Joining MedMasters is free and membership is open to all members of the health care community and medical industry.
For more information, visit http://www.medmasters.com.
Contact:
Rick Fromme
President
(904) 373-0772
# # #
MedMasters™ LLC is the most comprehensive professional networking and career management site in the medical community. By combining the best features of social media and professional networking with that of traditional job boards and lead sourcing, we are the natural evolution of the career management and fulfillment process. As the health care industry's most comprehensive professional networking site, MedMasters features an easy-to-use interface and multiple tools to make connecting easy.
Note: This press release contains trademarks and trade names of other third parties, which are the property of their respective owners.