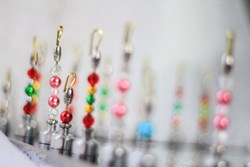 With MagnaHang, consumers can hang almost any decoration almost anywhere they like, any time of the year.
Wildwod, NJ (PRWEB) January 10, 2014
MagnaHang ™ is a patent pending magnetic hanging apparatus that can be used to hang objects on various fashionable occasions, primarily the Christmas season to hang holiday ornaments. The MagnaHang is a versatile hanger that mounts to any magnetic surface and can be applied to any area that contains metal including: drywall and paneling screws, nails, metal corners, door frames, walls, ceilings, and so much more. With the application of the additional Backer Magnet, MagnaHang can be applied to non-metallic items such as; lampshades, curtains, table cloths, glass in windows and doors, and pretty much whatever your creativity allows. With MagnaHang, consumers can hang almost any decoration almost anywhere they like, any time of the year. MagnaHang's founder assures that he has "reinvented the wheel" when it comes to decorating for any holiday.
Other year-round applications for MagnaHang include drying flowers, hanging vines for plants, or for creating elegant ways to hang easily misplaced items such as: keys, jewelry or eyeglasses. MagnaHang is a new way of decorating and displaying items that are quick and easy to remove, relocate and store. 
When the crowdfunding goal is met, MagnaHang will be able to commit to suppliers and dedicate their efforts to the fulfillment process. Going further, the MagnaHang team will deliver on all promised crowdfunding perks with sufficient inventory available to supply products to interested customers attracted by a conservative, well-managed marketing campaign across different channels. The overarching goal is to recruit additional experts to perfect the product and help MagnaHang proliferate to both domestic and global customers.
About The MagnaHang Team
The MagnaHang Team is led by John Glover, small businessman, entrepreneur and inventor who is also the patent holder. As the majority owner of MagnaHang, John orchestrates product design and management of his team. Team members include Scott Reese, who is involved with business development and technical sales, serves as the company's strategic advisor. Michele Esposito, a small business owner with twenty-five years of retail management and ten years of Information Technology sales, serves as the team's Executive Assistant and Technology Officer.
The MagnaHang Indiegogo Campaign - http://bit.ly/1ek9T0Y