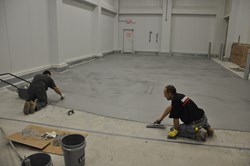 Thanks for staying on top of the floor. I appreciate the hard work. ~ Facility Owner
Wall, NJ (PRWEB) January 10, 2014
Garon Products recently renovated the floor of a meat processing facility in N.J. with a cold room floor coating.
The concrete floor at the facility was corroded by food by-products and daily hot water wash downs. The cold temperatures required in the environment also presented a special condition, so selecting the right floor resurfacer product was imperative. The facility owners needed a solution that would hold up to these extreme conditions
After prepping the concrete floor, a trowel was used to apply a ¼" urethane cement mortar [Garon's Mortarthane™ HF]. Urethane cement offers chemical resistance plus added traction for secure workplace safety. Urethane cement-based floor systems are ideal for food processing floors that are subject to hot and cold conditions, whether from ovens, freezers or wash downs—it was the right solution for this application.
One of the challenges in this project was to ensure that production in an adjacent room was not interrupted during the restoration. The floor being renovated could only be shut down for 36 hours, plus eight to 10 hours before being put back into service. Because of the product used, the separate room was able to maintain production during the floor renovation because Mortarthane™ HF does not taint food or emit odor. Production continued on schedule.
Using the correct product was imperative in this case also due to food safety regulations. The coating had to comply with the Food and Drug Administration [FDA], Americans with Disabilities Association [ADA], Occupational Safety and Health Administration [OSHA], and United States Department of Agriculture [USDA].
Between product selection and timeline adherence, Garon delivered a durable new floor resurfacer that didn't slow down production and met the client's industry compliance guidelines.
Watch this video to see how the cold room floor coating successfully repaired the floor or visit http://www.floorcoatingtv.com/low-temperature-floor-coatings/cold-room-floor-coating.
About Garon Products Inc.
Garon Products Inc. is the leading direct marketer of concrete repair and floor coatings through its catalog "Concrete Floor Solutions". Garon also manufactures specialized floor coatings and concrete resurfacing products for every flooring application. The line includes epoxy, cement urethane and polyaspartic compositions. For more information, visit http://www.garonproducts.com.