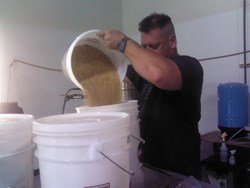 Warfighter Brewing Company is a veteran owned and operated brewing company dedicated to creating jobs for veterans.
San Carlos, CA (PRWEB) January 09, 2014
Warfighter Brewing Company is a veteran owned and operated brewing company dedicated to creating jobs for veterans launched with an idea and the personal funds of founder Jon Barton.. They currently operate out of a warehouse in San Carlos, California and have a staff of 15 Veterans. It took them three years of planning at the state and local level as well as hours of brewing and perfecting their recipes to acquire their space and get the tasting room open. 
However, they had to close down within just two weeks for reasons beyond their control. People that had been waiting to sample their brews had but a taste before a quagmire of conditional use permits and zoning restrictions impeded their savoring. Warfighter Brewing Company wanted to create a place where veterans could come to feel comfortable, civilians could come to be curious, and both unite under a common love of great beer and good times with fun company. Everyone that comes in declares Warfighter Brewing Company is one of the coolest places they've ever seen, and love the fact that every pint, t-shirt, and bit of swag sold goes to help keep a veteran employed with Warfighter.
Owner and founder Jon Barton, a United States Marine Corps combat veteran, started the company to not only provide jobs for veterans reintegrating into civilian life, but also give them focus, and a sense of pride. He wanted Warfighter to serve as an inspiration to other veterans to become entrepreneurs rather than waiting in an unemployment line. With a career as a celebrity weapons trainer and military coordinator in the film and television industry, he has also been able to secure jobs for hundreds of veterans working both on and off the camera. His current projects include the national campaign for the military financial institution USAA as well as the latest Kristen Stewart project. After two years of funneling all his personal finances into Warfighter, unable to get the appropriate loans, he has turned to crowdfunding as a means to eclipse this final hurtle.
Warfighter wants to move to a location that won't make it so difficult for them to share their brews with the community, and will let them eventually distribute nationwide. However, moving is expensive, and they need help to get the moving trucks and labor needed to get into the new space. If they don't move soon, they'll have to lay off a lot of veterans that work in their tasting room. So, adequate funding will help Warfighter get to a space where they can bust the doors wide open again and get back to serving beer. Should Warfighter not be successful in achieving their funding goal they will in almost all certainty be forced to close their doors forever which would amount to one less business able to give veterans an opportunity to be self sufficient and take their rightful place back in civilian life.
This project will only be funded if at least $20,000 is pledged by Friday Jan 31, 7:05 p.m. EST.
Kickstarter Page: http://kck.st/1gybCBU