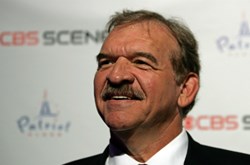 "I'm gonna find something to do. You haven't heard the last of me."
(PRWEB) January 08, 2014
TVRage.com's Senior Writer Anthony Marcusa recently joined a conference call, where NFL legend, analyst and broadcaster Dan Dierdorf discussed his upcoming exit from the game.
Here's an excerpt from the conference call:
"I'm being forced into this, just physically. It's just hard for me to travel 20 weeks a year and do my job the right way," said Dierdorf in a conference call alongside fellow CBS analyst Phil Simms and CBS Chairman Sean McManus. "I'm retiring; I'm not expiring. I love the NFL and I love the game of football. I just need something that doesn't involve me having to go going to the airport every Thursday or Friday and being gone for three or four days."
Dierdorf, with his sonorous voice, inclination for analogies, and signature mustache, is saying goodbye to the booth at the age of 64 after 43 consecutive years working with the NFL. He played 13 years in the league from 1971-83 for the St. Louis Cardinals, and has earned All-Pro accolades, but also found himself with a pair of artificial knees and two artificial hips.
"I'm a little melancholy. It's hard to believe that this is my last game Saturday night, but wow, what a way to go," explained Dierdorf, referring to the AFC Divisional Playoff game he will be calling, alongside Greg Gumbel. The matchup takes place at Gillette Stadium in Foxborough, Mass., where the Tom Brady-led (and injury-plagued) New England Patriots host rising star and comeback wunderkind Andrew Luck and his Indianapolis Colts, fresh off a wild win in Indy that make for some unforgettable drama.
"There are more storylines than we can ever get into," he continued, and adding, "Playoff football is something special. I'm proud to be a part of it and very much looking to it. It's a great privilege."
Saturday, Jan. 11 marks Dierdorf's curtain call when he appears on 'The NFL Today' on CBS at 7:30 p.m., which airs before the AFC Divisional Playoff game featuring Indianapolis at New England.