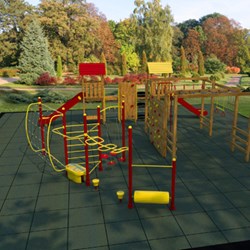 The places where the need is the greatest are the places where the safety measures fall shortest.
Milltown, WI (PRWEB) January 09, 2014
According to the CDC, there are roughly 200,000 injuries to children 14 years of age and younger that are treated in hospital emergency rooms each year. Of those, roughly 75% occurred on the playground.
Fortunately, things have come a long way since the days when monkey bars and slides were built on a concrete slab or former parking lot. Injuries and lawsuits have changed the requirements for playground safety surfaces and people are starting to see the need for a safer place for kids to play. These days, wood chips, sand, and rubber crumb are all the rage for outdoor playground flooring.
But are these solutions effective?
The short answer is, "no." All of these "loose-lay" materials to be maintained to a certain depth to provide fall height safety for kids plummeting from the top of a slide or leaping from a swing. Unfortunately, kids don't worry about that sort of thing. Wood chips and rubber crumbs get thrown around. Sand gets dug into, moved around, and shifted under swings and slides. Usually, the places where the need is the greatest are the places where the safety measures fall shortest.
A better solution is outdoor playground tile. Made of a thick, weather resistant rubber, these tiles provide a consistent fall height rating under any conditions. They don't require constant raking or leveling to ensure that they maintain safe protection. And unlike poured-in-place rubber flooring (another popular option), you don't have to invest in major patchwork if a spot wears out faster than the rest. Simply pop out the worn tile and replace it.
A final note in favor of a solid safety surface: foreign objects cannot hide in rubber tiles. The same can't be said for wood chips or other loose materials. Broken bottles, nails, old cans and just about anything else can lay in wait for children to find beneath the surface of piles of sand. No good can come of that.
About Greatmats:
Headquartered in Milltown, WI, Greatmats is a leading online dealer of residential and commercial specialty flooring options. Greatmats is 100% solar powered and has been named one of Inc magazine's top 500 fastest growing sites three years in a row. They hold a Triple-A rating with the Better Business Bureau. For further information, contact Greatmats at 877-822-6622 or visit http://www.greatmats.com.