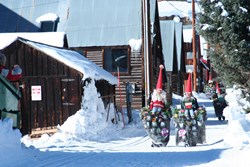 The Gunnison-Crested Butte Valley's friendly, fun-loving spirit spills over into an energetic calendar of winter and spring festivals.
Gunnison-Crested Butte, Colorado (PRWEB) January 08, 2014
The Gunnison-Crested Butte Valley's friendly, fun-loving spirit spills over into an energetic calendar of winter and spring festivals that incorporate talented songwriters, flying snowmobiles, costumed Nordic skiers, downtown ski jumping, flushing out winter to welcome spring, and more. There's something for everyone, ranging from the weekend warrior and hard-core athlete to couples and families looking for a relaxing, yet action-filled getaway in the heart of the Colorado Rockies.
Broadcast Music, Inc. (BMI) songwriters and fans have the unique opportunity to share stories, mingle and enjoy great music in intimate settings during the third annual Crested Butte Songwriters Festival on Jan. 17 – 18. The BMI event, offered in partnership with Crested Butte Mountain Resort, Texas Roadhouse and HD Radio, highlights the names and faces of songwriters behind some of today's biggest hit songs. Topping the lineup will be veteran songwriter Dean Dillon along with Rodney Clawson, Thompson Square and Casey Beathard. Fresh from "American Idol," Kree Harrison will be swapping songs and stories as will Lucie Silvas, Scotty Emerick, Due West, Kendell Marvel, Nicolle Galyon and a host of local songwriters.
Highlights include performances at local nightspots at 6, 8 and 10 p.m. on Jan. 17 ($5 donation at each) and an in-the-round acoustic showcase at Center for the Arts Crested Butte on Jan. 18 at 8 p.m. ($100 per ticket). Proceeds benefit the Gunnison Cattlemen's Days Tough Enough to Wear Pink initiative for breast cancer awareness. For details go to http://www.gunnisontetwp.com and http://www.skicb.com/events.
Crested Butte Mountain Resort has added snowmobiling to Gunnison-Crested Butte's mix of annual events. Plans for the second annual Roost the Butte have focused on creating a mid-winter snowmobile extravaganza in the Gold Link area of the resort on Jan. 18 – 19. CBMR has teamed up with X-Games snowmobile event organizer Joe Duncan of 357 Consulting and Rocky Mountain Snowmobile Racing to offer four different events with multiple classes for each: snocross, hillcross, hill drag and snow ovals. In addition, there will be other unique features, vendor displays and a festive atmosphere around the racing venue. Visit http://www.skicb.com/events.
Kenny Mac Ski Fest and Winter Carnival are offering a winter wonderland of events in Gunnison on Jan. 25. Nordic ski races/tours for youth and adults kick off at 9:30 a.m. at Hartman Rocks Multi-Use Recreation Area. Youth can race 1.5 and 3 kilometer courses ($10), and adults can traverse 11 or 22 kilometers ($15). There also will be a 3K Snowshoe Rabbit Race ($15) at the base of Hartman's starting at 10:30 a.m.
Winter Carnival festivities organized by Gunnison Parks & Recreation will be held in the afternoon at Jorgensen Event Center, where beer, chili and live music will be available. Outside, a one-of-a-kind ski/snowboard jibfest, figure skating expo, hockey skills competition and snowmobiling tubing promise loads of action for competitors and spectators alike. Plus, brave soles can take part in polar bear ice jumping into Pacman Pond. In addition to organizing the ski races, Gunnison Nordic Club has a bonfire planned for 6 p.m. at Jorgensen Park that is open to the public. Details can be found at http://www.gunnisonrec.com and http://www.gunnisonnordic.com.
The 28th Annual Alley Loop Nordic Marathon on Feb. 1 is part serious and part silly. Sure there are plenty of high-tech racing suits since Alley Loop is an American Birkebeiner qualifier and part of the American Ski Marathon Series, but there are just as many costumes and light-hearted moments since kids and families are encouraged to participate. Course lengths range from 1.5 to 42 kilometers, and crowds line the streets and alleys to cheer on the more than 500 racers and pack the beer garden on the Brick Oven's deck. For additional Alley Loop fun, the second annual Alley Loop Pub-Ski Crawl and Crested Butte FAT Bike Race take place the day before on Jan. 31. Registration for Alley Loop is available at http://www.cbnordic.org, where information about the entire event is posted.
A ski jump in the middle of downtown? It happens in Crested Butte during Big Air on Elk on March 8 when a snowmobile pulls top skiers and snowboarders who launch off a step-up style jump with a 45-foot gap located at Third Street and Elk Avenue. The invite-only format ensures that each jump will have a good chance of wowing the crowd from 5 – 9 p.m. Colorado Freeskier organizes Big Air on Elk to benefit the Crested Butte Snowsports Foundation. For more details, call Colorado Freeskier at (970) 349-6664 and visit http://www.coloradofreeskier.com.
Crested Butte Mountain Resort will host the annual Ski Town Breakdown spring concert, now in its fifth year, on March 22. Formally known as Festevol, this event brings in national talent and engages both locals and visiting guests to celebrate spring with live music and a festival village in the base area. More details and bands will be announced shortly. To stay informed, visit http://www.skicb.com/events.
The last weekend of the ski season could be a ho-hum, hang up your boots kind of farewell in some towns. In Crested Butte, locals and visitors will be flushing out winter and welcoming spring during the 46th Annual Flauschink on April 2 - 6. A historical slide show on Wednesday at Talk of the Town at 7 p.m., coronation ball and polka dance on Friday at 9 p.m. (location to be announced), parade on Saturday downtown at 11 a.m., and a ski slope salute to the king and queen of Flauschink on Sunday are just part of the wacky fun. The king and queen are presented scepters (a.k.a. handy drink holders) made from toilet plungers and locally crafted crowns. The "Has Beens" (previous Flauschink royalty) join in the fun, and there is a Flauschink exhibit always on display at Crested Butte Mountain Heritage Museum. For information, contact Michelle English, event organizer, at (970) 349-7348.
Crested Butte Mountain Resort has organized a second snowmobile event, Ultimate Snowmobiler, to crown the competitor with the most points after four days of racing on April 10 – 13. Given the success of last year's Roost the Butte snowmobile extravaganza, Rocky Mountain Snowmobile Racing, 357 Consulting and CBMR designed an eight-event snowmobile competition. The event will draw contestants and spectators to the base area after the resort closes for the ski season on April 6. For information, visit http://www.skicb.com/events or http://www.RMSRracing.com.
Vacation Packages & Visitor Information
To save on flights, hotel rooms, vacation packages, car rentals and more, call the Gunnison-Crested Butte Tourism Association reservation hotline at (888) 559-0841 or go to http://book.GunnisonCrestedButte.com. For destination information, call (800) 814-8893, visit http://www.GunnisonCrestedButte.com and find GCBTA on Facebook at http://www.facebook.com/gcbta.